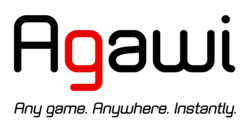 (PRWEB) November 16, 2012
Cloud gaming service Agawi is announcing that it has been named a silver winner in the "Fastest-Growing Company of the Year" category for small companies in the 2012 Best in Biz Awards. Best in Biz is the only independent business awards program judged by members of the press and industry analysts, and more than 400 entries were submitted for the 2012 awards.
Agawi originally launched out of YouWeb Incubator as iSwifter in 2010 to bring Flash-based games to the iPad. In September of this year, the company re-launched as Agawi, for "any game, anywhere, instantly," and released version 2.0 of its cloud gaming service to stream all genres of games, from casual to hardcore, to all devices, like tablets and smart TVs. Agawi also recently teamed up with Microsoft to stream games to Windows 8 devices and launched its Windows 8 app, GameZen.
"We're thrilled to be recognized by the Best in Biz Awards," said Agawi CEO and co-founder Rajat Gupta. "Agawi has a small, but growing, dedicated team putting in a lot of hours, and it's really starting to pay off. We're striving to push the envelope in cloud gaming, and this is just the beginning of where we can help take the industry as a whole."
Other companies recognized by the Best in Biz Awards include Citrix, CloudOn, Dell, Hilton Hotels, Skyfire, StubHub, Symantec, Unmetric, YesVideo and more.
Winners of Best in Biz Awards 2012 were determined by an independent panel of 32 judges from top-tier news, business and technology publications, as well as broadcast outlets and analyst firms, such as ABC, Businessweek, Computerworld, ECT News Network, Entrepreneur, eWeek, Examiner, Financial Times, Forbes, FOX News, Hartford Business Journal, IDG Ventures, IEEE Institute, Inc., Insight Media, King Features Syndicate, Lab Reviews, Network World, The News and Observer, PC Magazine, ReadWriteWeb, South Florida Business Journal, Tech-Gaming, Techtalk, Upstart Business Journal, USA Today and ZDNet.
For more on Agawi, visit: http://agawi.io/
To learn more about the Best in Biz Awards and this year's winners, visit: http://www.bestinbizawards.com/2012-winners
About Agawi:
Agawi, formerly iSwifter, recently launched the 2.0 version of its cloud gaming platform and provides its partners with content streaming solutions for all devices, from mobile to PC to TV. Agawi stands for "any game, anywhere, instantly" as its mission to offer all types of games, from casual to hardcore, across all devices.
The cloud gaming platform works with leading game publishers, online retailers, OEMs and network operators to deliver quality gaming experiences anytime, anywhere. It is committed to providing high-performance, scalable and cost-effective solutions to a variety of business models through its state-of-the-art streaming technology.
Based in Menlo Park, California, Agawi was founded by Silicon Valley veteran entrepreneurs and spun out of YouWeb Incubator in 2010.
To learn more about Agawi, visit http://agawi.io/