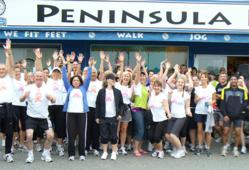 Some people don't have time to consider what goes in their body and simply drink water whenever they can
Delta, B.C. (PRWEB) November 19, 2012
Runners rarely stay in one spot very long, even when they're shopping. That's why Ryan Keigher, sales, marketing and promotional representative at Peninsula Runners, said the specialty running shop decided to carry Santevia Water Systems clean, mineralized and alkaline water products.
"Some people don't have time to consider what goes in their body and simply drink water whenever they can," said Keigher.
"With the Santevia Alkaline Water Stick they can get what their body needs without having to further adjust their diets."
Small enough to fit in a purse or pocket, the water stick contains all natural compounds such as tourmaline stone, minerals stones, far infrared and calcium ion. Placing the stick in a glass of water or water bottle increases the pH of normal tap water or bottled water to a pH 8.5+.
Garrett Wiseman, sales manager at Santevia, said runners are a particular demographic that could benefit from having a pH-balanced body for peak performance.
"We're very excited to partner with Peninsula Runners. As a company we have always focused on the importance of alkalinity for fitness and it is great that Peninsula Runners shares this vision," said Wiseman.
About Peninsula Runners
Peninsula Runners is the Fraser Valley's only independent running specialty store, also serving the community of Victoria. Carrying all different widths and sizes, ranging from women's 5 to 13, men's 7 to 16, from 2A to 4E widths, as well as kids' shoes, they use special fitting techniques to ensure customers receive the best fit for their running and walking needs.
About Santevia Water Systems
Santevia Water Systems Inc., located in Delta, BC Canada, manufactures and distributes water filtration and water mineralization products under the brand Santevia. The company's products are sold in Fitness Centers, Spas and Health Specialty Stores across Canada, USA, UK as well as online through it's own shopping cart and online Partner Referral Program. All products are built to ensure they adhere to the company's core values to offer Alkaline water products that are healthy, eco-friendly and cost effective.