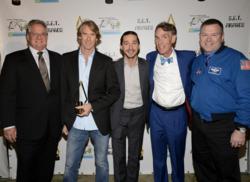 The entertainment industry leaders being honored this year know how to entertain and inspire our workforce of tomorrow. -- Brian Dyak
Los Angeles, CA (PRWEB) November 15, 2012
Film Director Michael Bay, NCIS star David McCallum, Disney Legend Bob Gurr and TV Director Alexander Singer are among the featured individuals being honored at the Entertainment Industries Council's 2nd Annual S.E.T. Awards. Top revenue-generating films and highly rated comedy and drama series The Big Bang Theory, NCIS, Person of Interest, Body of Proof, Bones and CSI were among the productions recognized for accurate, inspirational and encouraging depictions of and bringing attention to the fields of science, engineering, and technology at the ceremony, held at the Beverly Hills Hotel today.
Presenters included David Berman (CSI); Sarah Brightman (singer); Nolan Bushnell (Atari founder); Jim Kelly (astronaut); Shia LaBeouf (Transformers); Sharon Lawrence (Drop Dead Diva); Michele Lee (How To Live with Your Parents/Fumbling Through the Pieces); Kate Linder (The Young and the Restless); Dolph Lundgren (The Expendables and degreed Chemical Engineer); Bill Nye "The Science Guy"; Andrea Roth (Rescue Me); Jon Wellner (CSI); and Claudia Wells (Back to the Future). The event was hosted by a small, unmanned aerial drone named Frankie, voiced by actor and radio host Jay Thomas.
Two of the films honored, The Avengers and The Dark Knight Rises, are the two highest grossing films of the year and rank third and fourth for all-time box office. Two television shows being honored, The Big Bang Theory and NCIS are currently the most-watched comedy and drama series, respectively. This success represents significant potential for productions to impact young people's aspirations and interests in science, engineering and technology.
"Movies, videos and multimedia content with accurate, inspiring and encouraging science, engineering and technology storylines are magnets for youth that can launch them into technical careers, fill existing workforce gaps and create the innovation necessary to propel not only the entertainment industry, but also the nation into a bright future" said Brian Dyak, President and CEO, Entertainment Industries Council, Inc. "The entertainment industry leaders being honored this year know how to entertain and inspire our workforce of tomorrow."
Since the breakout hit CSI: Crime Scene Investigation hit the airwaves and attention of the entertainment industry was focused on this national imperative, evidence suggests growing student interest in related studies.
"The real CSI effect may be drawing young people into the sciences. Forensic science has always had high percentages of females, 85% in academia and still over 50% in the profession, and the media representation of science as "cool" has been a catalyst," said Max M. Houck, Ph.D., Director, Department of Forensic Sciences, District of Columbia.
"The entertainment industry and news media are key to influencing popular culture and youth in their formative years," said Rick Stephens, senior vice president of Human Resources and Administration for Boeing. "The aerospace industry has a vested interest in accurate and inspirational storytelling that reaches the public. I welcome the leadership from Lockheed Martin, Northrop Grumman and aero engine maker Rolls-Royce as dynamic supporters of the S.E.T. Awards to further encourage entertainment productions to use their skills and talents to help increase interest in science, engineering and technology as a cornerstone of our economy and future. Seeing the creative community rally to support informative and thoughtful productions that encourage students is outstanding."
The event also featured exhibits of student innovation.
Feature Films Awards: Contagion (Warner Bros. Pictures), Real Steel (Walt Disney Pictures) and The Dark Knight Rises (Warner Bros. Pictures).
TV Comedy Awards: The Big Bang Theory (CBS).
TV Drama Awards: Body of Proof (ABC), Bones (Fox), and CSI (CBS).
The S.E.T. Legacy Award for a production created prior to the launch of the S.E.T. Awards, went to director Michael Bay for his work on the blockbuster Armageddon. The award was presented to him by his friend and Transformers star Shia LaBeouf. The inaugural Bob Gurr Leadership & Inspiration Award was presented to Disney legendary Imagineer Bob Gurr who designed and/or engineered numerous classic attractions for the Disney theme parks.
Also being presented were special awards in the disciplines of science, engineering and technology for portraying these fields in a positive and non-stereotypical way.
CBS's NCIS received the Scientist Award, along with the show's co-star David McCallum. Marvel's The Avengers, received the Engineer Award, and CBS's Person of Interest received the Technologist Award. Veteran television director Alexander Singer, who has directed numerous TV science and technology related series over the years including Quincy M.E., Lost in Space, Mission Impossible, The Man From UNCLE, Logan's Run, MacGyver, and over 20 episodes of Star Trek: The Next Generation, Star Trek: Deep Space Nine, and Star Trek: Voyager, received the S.E.T. Icon Award.
Documentary Awards: Chemistry Now: Chance Discoveries (NBC Learn), Frozen Planet: Ends of the Earth (Discovery Channel), Nova's 38th season (PBS/WGBH), and Through the Wormhole with Morgan Freeman (Science Channel).
DC Comics titles The Flash – "Move Forward" and Mr. Terrific – "Mind Games" were also honored.
Award winners were chosen from more than 130 submissions judged by a distinguished jury of engineers and entertainment professionals. Key criteria focused on accuracy, impact, inspirational value, accessibility to vast audiences, and entertainment value of the productions.
The S.E.T. Awards are produced by the Entertainment Industries Council, Inc. (EIC) as part of EIC's Ready on the S.E.T. and… Action! initiative.
The event is produced in collaboration with Catalyst sponsor The Boeing Company. Additional supporters include Motivator sponsor Lockheed Martin, Believer sponsor Northrop Grumman and Optimist sponsor Rolls-Royce, and media partner U.S. News & World Report. Entertainment Industry Partners include SAG-AFTRA, Women In Film, Visual Effects Society, The Caucus for Producers, Writers and Directors, NATPE, Digital Entertainment Group, Writers Guild of America west, Film Independent, Entertainment Merchants Association, International 3D Society, Producers Guild of America, National Association of Broadcasters, and National Cable & Telecommunications Association.
Included on the S.E.T. Awards Honorary Committee are Mitch Bainwol (RIAA), Tom Calderone (VH1), Emiliano Calemzuk (TV Executive), Robert DeBitetto (A&E Network/BIO Channel), Nancy Dubuc (Lifetime/History), Stephen Friedman (MTV), Marc Graboff (Core Media Group), Ted Harbert (NBC Broadcasting), Steve Koonin (Turner Entertainment Networks), Stan Lee (POW Entertainment!), Laura Michelchyshyn (Planet Green), Deborah Myers (Science Channel), Dawn Ostroff (Conde Nast Entertainment), Kevin Reilly (Fox Broadcasting Co.), Herman Rush (Caucus for Producers, Writers & Directors), Steve Schiffman (Entertainment Executive), Nina Tassler (CBS Entertainment), Michael Wright (TNT, TBS & Turner Classic Movies), Vivi Zigler (Shine America).
About Entertainment Industries Council
EIC, a non-profit organization, was founded in 1983 by leaders of the entertainment industry to bring the power and influence of the industry to bear on communication about health and social issues. The organization is considered to be the chief pioneer of entertainment outreach and one of the premiere success stories in the field of entertainment education. EIC provides information resources for entertainment creators through innovative and time-proven services and methods of "encouraging the art of making a difference" from within the entertainment industry. EIC produces the simulcast national television special PRISM Awards Showcase which addresses accurate portrayals of prevention, treatment and recovery from drug, alcohol and tobacco use, and mental health concerns. The organization also produces the S.E.T Awards, honoring positive and non-stereotypical portrayals of science, engineering and technology, http://www.eiconline.org/ReadyOnTheSet.
EIC also addresses issues such as diabetes, ADHD, Post Traumatic Stress Disorder, foster care, women's health, firearm safety and injury prevention, sun safety and skin cancer prevention, human trafficking, terrorism and homeland security, eating disorders and obesity, seat belt use and traffic safety, and HIV/AIDS prevention. The organization has also launched an initiative to increase the public profile and interest in science, engineering and technology. EIC's web site is http://www.eiconline.org. The PRISM Awards website is http://www.prismawards.com.
# # #