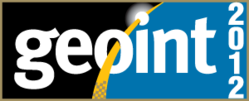 We don't do numbers to brag. Our numbers show that we are adding value to our community.
Herndon, VA (PRWEB) November 16, 2012
The United States Geospatial Intelligence Foundation (USGIF) last month concluded its 9th annual GEOINT Symposium, attracting 4,300 attendees from 27 countries. Despite federal cuts and pending legislation, the symposium had the broadest representation of government ever. Attendees at the event, which took place October 8-11 in Orlando, FL, had an opportunity to explore the latest technologies from a record breaking 264 exhibitors and were able to hear from and meet with key Defense, Intelligence and Homeland Security Community leadership.
"These are important metrics. Companies aren't rolling around in cash wondering where to spend it," said Keith J. Masback, president, USGIF. "We don't do numbers to brag. Our numbers show that we are adding value to our community."
Over 100 industry speakers guided the audience through discussions focused on this year's theme, "Creating the Innovation Advantage." The theme is indicative of the idea that innovation has always been at the heart of what it means to be American and was captured in the symposium's extraordinary opening video.
GEOINT 2012 offered a one-day pre-symposium educational event, GEOINT Foreword, which drew 450 attendees and included keynotes from Ted Cope, Director Basic and Applied Research, InnoVision, NGA, and Jeff Jonas, Chief Scientist, IBM Entity Analytics Group, and IBM Distinguished Engineer. The rest of the symposium also included six keynote speakers, three panel discussions, three lunchtime workshops and six afternoon breakout sessions. Discussions concentrated on geospatial interoperability, confronting complexity in global disasters, young professionals and the converged future of GEOINT, activity-based intelligence, Threats in the GEOINT Industrial Security Enterprise, interagency GEOINT coordination, national certification and accreditation programs and much more.
Keynote speakers included The Honorable James R. Clapper Jr., Director of National Intelligence; Ms. Letitia A. Long, Director, National Geospatial-Intelligence Agency; Air Chief Marshal Sir Stuart Peach, Commander, Joint Forces Command, U.K. MoD; The Honorable Michael Vickers, Under Secretary of Defense for Intelligence; LTG Michael T. Flynn, U.S. Army, Director, Defense Intelligence Agency; and GEN Keith B. Alexander, U.S. Army, Director, National Security Agency/Chief, Central Security Service and Commander, United States Cyber Command.
Other notable highlights from GEOINT 2012 included filled sessions for SAR/EO training, and another successful Young Professionals Group (YPG) outreach project. With the help of 40 USGIF YPG members, this year's educational experience welcomed 60 local sophomore students from the Orlando Public School System who participate in programs including Jr. ROTC and several different Magnet programs. Students were introduced to what GEOINT is, college majors they may be interested in and missions they could get involved in professionally, all in an effort to excite them about a future in geospatial intelligence.
"That's really gratifying, to watch young professionals come together, learn from one another, learn from more seasoned professionals, and give back to the greater community," stated Masback.
GEOINT 2012 was also the stage for the announcement of the annual USGIF Awards Program recipients, which included an Adminiatrative/Supoort award for the first time, as well as the presentation of the Arthur C. Lundahl Lifetime Achievement Award to Penman R. Gilliam.
To view highlights and all of the proceedings from GEOINT 2012, visit http://www.GEOINTv.com.
About USGIF
USGIF is a non-profit educational foundation dedicated to promoting the geospatial intelligence tradecraft and developing a stronger GEOINT Community with government, industry, academia, professional organizations and individuals whose mission is the development and application of geospatial intelligence to address national security challenges. For more information, please visit http://www.USGIF.org