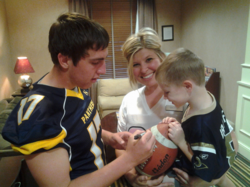 After the sermon I told the pastor my idea on helping the food pantry and he said, "That is Awesome".
San Diego, CA (PRWEB) November 16, 2012
Kicking coach Michael Husted features an interview with O'Fallon, IL, high school senior kicker Austin Barnes, about his food drive project 'Kickin It For Cans' at Michael Husted.com
Barnes, a senior at O'Fallon Township High School in O'Fallon, IL, is considered to have one of the best young kicking legs in the country. Many people also think he has one of the biggest hearts.
Through his food drive 'Kickin' It For Cans', Barnes recently helped gather over 3700 canned goods for the Fairview Heights Food Pantry in Fairview, IL. The idea was to help put food in people's cupboards while he was putting points on the scoreboard for his high school football team.
Barnes said he came with the idea while taking with his mom at church.
"My mom and I were sitting in church and our pastor was talking about how the food pantry was in need of food," says Barnes. "He talked about the upcoming holidays and the shelves were bare. I remembered what it was like when I was little not having a lot and I didn't want others to go through that. I went on two mission trips out of state and now I had a way to give back in my hometown."
"After the sermon I told the pastor my idea on helping the food pantry," Barnes continues. "He said "That is Awesome". I don't think either one of us knew the magnitude of what God had in store. My Church Student Ministry also donated cans when they found out of my ministry."
Barnes said he found great support at his school for this project.
"The teachers, clubs, Athletic Director, and Administration really joined together and supported me," says Barnes. "The Athletic Director pulled me aside before school one morning and shook my hand and said, "I just want to say I am really proud of you. You are a fine young man".
Barnes said clubs at school that collected cans were Cheerleading, Future Educators of America, Future Business Leaders of America, German Club, Robotics Club, and Student Council.
Barnes said he hopes his efforts will inspire other athletes to help other in need.
"The second reason I did this was to encourage other athletes," says Barnes. "It is so easy to get caught up in the sport and not realize God gave each and every one of us a gift. We don't have to wait until the NFL because we can help now. As my pastor said...I saw a need, I used my gift and I fixed it. I know there is a basketball player who read the Notre Dame article on Kickin It for Cans and he was inspired and is now doing his own canned food drive."
Go here for Michael Husted's interview with Austin Barnes at Michael Husted.com.
Go here for more information about kicking coach Michael Husted.