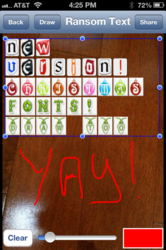 Great new additions!
Sacramento, CA (PRWEB) November 22, 2012
Ransom Text is an app that allows a person to use different picture fonts in several colors and fonts to express themself. The app uses the "standard" qwerty keyboard with Ransom Text and other font overlays - it allows someone to post text over a picture, send to Facebook, SMS, Email, Twitter, iTunes, Pasteboard/Clipboard, etc.
The app has been updated to include a drawing capability along with the option to change the color of the "pencil" and the width. It's quite simple – just using one's finger. It also now includes some new Christmas fonts, the ability to imbed the "native" keyboard fonts and emoji characters if you have them installed, plus the ability to reposition the cursor to edit text even more easily than before.
The app does not install a native keyboard that can be used in other apps (apple doesn't allow that) but allows you to easily post picture fonts to several apps and paste into SMS/Text Messages, send to email, Facebook, Twitter, iTunes and allows overlaying text on pictures aka Meme style.
Features:

Cool Fonts
Change Font and color by individual letter
Share to Facebook, Twittter, Email, SMS/Text, Pasteboard
And it's free. Additional fonts can be purchased.
About NDNWare
Based in Sacramento, CA NDNWare LLC was incorporated in 2011 to specialize in software and services that help people do their work more efficiently.