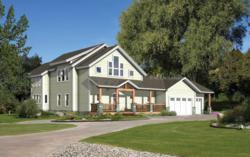 Meridian, ID (PRWEB) November 19, 2012
The design process has always been a primary focus for Riverbend Timber Framing, aiming to allow clients to customize a plan that fits their needs and wants perfectly. Whether that means a client draws inspiration from one plan, multiple plans, or they choose to create a plan from scratch, Riverbend is cognizant of the need for fresh, new designs. As a result, they have decided to give the Sandhill Crane concept a make-over and re-introduce it to their floor plan gallery.
As a result of this make-over, the Sandhill Crane's offers a slightly different look and includes a new rendering, elevations, and floor plans. The interior layout now flows closer to home building trends. On the main floor, the bathroom was redesigned to become more functional while the second-level features an additional bathroom added to the plan and the reconfiguration of the master suite's layout to flow better.
This rejuvenated design is just the starting point in Riverbend's design update project. Over the next few months, they will assess several popular plans from their gallery and re-introduce them as a fresh, new version of the original concept.
View the new Sandhill Crane design concept at: http://www.riverbendtf.com/floorplans/sandhill-crane.html.
###
PFB Custom Homes Group, a wholly owned subsidiary of PFB Corporation, is the parent company of Riverbend Timber Framing, PrecisionCraft Log & Timber Homes, and Point Zero Homes.
Riverbend is a manufacturer of custom traditional timber frame homes. Using traditional timber frame designs and an integrated energy efficient building system, Riverbend's homes are built to last. With 30 years of experience, Riverbend creates inspiring homes that match each client's unique lifestyle, architectural preference, and budget.