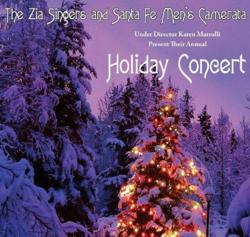 "Essentially, the program is meant to reflect the holiday experience from the perspective of a variety of cultures and time periods," said choir director Karen Marrolli
Santa Fe, New Mexico (PRWEB) November 15, 2012
The Santa Fe Men's Camerata and the Zia Singers, both directed by Karen Marrolli, join forces for a concert of holiday music and readings, Sat. Dec 1, at 7 p.m., and Sun., Dec. 2, at 4 p.m., at the Scottish Rite Center. Tickets are $20, and can be purchased at the door. Students under 18 are free. SantaFe.com, Santa Fe, NM's top online magazine, features this event on the company's event calendar.
The program, which combines 45 men and women's voices, consists of both music and readings that reflect the diversity of the holiday season, from ancient carols such as "Gaudete," to the more familiar holiday fare "Carol of the Bells," and "Do You Hear What I Hear?" Readings range from the sacred to the secular, acknowledging the multiple aspects of the Christmas season -- like Charles Dickens' A Christmas Carol, and Dr. Seuss' The Grinch Who Stone Christmas -- as well as ancient celebrations of Yule.
There is a global aspect to the program, too, which includes a international variety of different sounds and musical traditions; the Hebrew folk hymn "Hine Ma Tov," the African Christmas song "Betelehemu," the Spanish carol "Riu Riu Chiu," and Celtic renditions of familiar carols such as "Patapan," and "I Saw Three Ships." The program also features a new gospel-flavored carol by Santa Fe composer Faith Amour, "I Saw the Star."
"Essentially, the program is meant to reflect the holiday experience from the perspective of a variety of cultures and time periods," said choir director Karen Marrolli.
About SantaFe.com:
SantaFe.com provides locals and visitors to Santa Fe alike the most current interactive platform for events, music, arts, business, dining and lifestyle. SantaFe.com is a division of Hutton Broadcasting, located at 2502 C. Camino Entrada, Santa Fe, NM 87507
Contact Information:
Scott Hutton
SantaFe.com / Hutton Broadcasting
http://www.santafe.com
(505) 471-1067 (Media inquiries only, please)