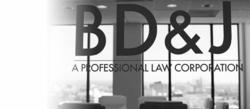 Los Angeles, CA (PRWEB) November 15, 2012
The BD&J Law Firm, which has 2 Los Angeles area offices, is proud to announce the launch of their redesigned website at http://www.lamotorcyclelawyers.com. The newly branded website focuses on the firm's remarkable success in motorcycle accident injury cases and is a source of information for motorcycle riders throughout California.
Featuring the firm's stellar motorcycle accident results and offering motorcycle enthusiasts a valuable source of information and resources regarding all things related to motorcycle riding, the website, which was designed by Recognize Designs, was launched on November 12th.
Motorcycle accidents are some of the most dangerous and deadly of all vehicle accidents that occur on our highways. According to the Governor's Highway Safety Association (GHSA), more than 4,000 individuals are killed annually in motorcycle accidents, with even more being seriously injured.
According to the firm's website page devoted to motorcycle accident attorneys (link here), the vast majority of motorcycle accidents occur close to home and most frequently happen in an intersection when someone in a car turns left in front of the motorcycle. The drivers of the car often claim they didn't see the bike, and the rider only has a few seconds to react. When you add the inherent dangers with motorcycle design and the lack of protection they offer riders, it's no surprise that motorcycle accidents result in the most serious of catastrophic injuries.
BD&J Law's Motorcycle Accident representation record is well documented on their website. The "Results" section of the website has several videos that feature testimonials from past clients, including a video featuring or Lt. Geoff Reeves. You can watch a video of the post-accident interview Lt. Reeves gave on the firm's website by clicking here.
"We are very excited about the launch of our newly designed website." said Sean Banafsheh, partner and co-founder of the firm. "We hope to increase our readership and audience by being active in posting daily blog articles, releasing informational downloads regarding things like motorcycle safety, engaging with our audience via social media, and having contests and sweepstakes for our loyal audience."
About Banafsheh, Danesh & Javid, P.C.
Banafsheh, Danesh & Javid, P.C., is a well-respected Beverly Hills, CA personal injury law firm that serves clients throughout California. The firm maintains offices in Los Angeles, Orange County, San Francisco, San Diego, Riverside, San Bernardino, San Jose, and Sacramento. The firm's personal injury lawyers handle cases on a contingency fee basis, not charging a fee unless they can gain a recovery for their clients.
The firm also features a staff that speaks Spanish, Italian, Farsi and Hebrew in addition to English and offers free consultations via their toll free number 800-820-1111.