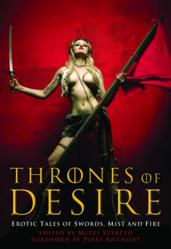 (PRWEB) November 16, 2012
In Thrones of Desire erotic story-spinner Mitzi Szereto has created a place where lust and legend abound, where adventure, passion and danger entwine. Think mystical lands and creatures, kings and queens, knights and renegades, heroes and villains, warlords, maidens, and princesses. Think battles and danger, honor and dishonor, good and evil. Most of all, think hearts filled with passion and secret desire. This is a place where romantic chivalry is alive and well, but so too is romantic wickedness. In these lush and timeless landscapes, the battle for flesh can be as important as the battle for power. Intrigue, sorcery, revenge, lawlessness, dark secrets and mysterious elixirs, even entanglements with supernatural beings — everything is possible in these magical mythical landscapes. Inspired by the HBO television series Game of Thrones, these imaginative, steamy tales transport the reader to fantastical realms.
Mitzi Szereto will be at the Miami Book Fair International on November 17th, on a panel discussing 50 Shades of Grey and erotica in general, along with other Cleis authors Ily Goyanes and Susie Bright. The Miami Herald recently wrote about the phenomenon and what you can expect from the panel. Ily Goyanes also writes about Thrones of Desire in an article in The Miami New Times about what's going to be happening at the Fair.
Mitzi Szereto is an author and editor of erotic and multi-genre fiction and nonfiction anthologies. A popular social media personality and frequent interviewee, she has pioneered erotic writing workshops in the U.K. and Europe and lectured in creative writing at several British universities.