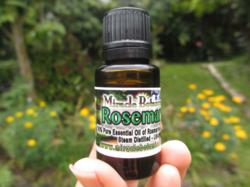 Rosemary essential oil has been used since the 13th century, as it was a symbol of fidelity, wisdom, and love.
Pahoa, HI (PRWEB) November 28, 2012
Miracle Botanicals, the Leader in Reiki Charged Pure Essential Oils, is now offering Pure Rosemary Verbenone Essential Oil - one of the most powerful and effective healing oils, for only $11.97.
The name Rosemary is derived from the Latin words "ros marinus," which means, "Rose of the Sea." Rosemary essential oil has been used since the 13th century, as it was a symbol of fidelity, wisdom, and love.
Rosemary was thought to bring protection from diseases, as it was an ingredient used in the well-known thieves oil.
   Rosemary Verbenone is known as the most healing and effective variety of the rosemary essential oils. All Rosemary essential oils contain tissue-regenerating ketones, however, the Verbenone variety contains lower camphor and higher ketones, making the oil more effective and much gentler for rejuvenating the skin and hair, as well as providing wonderful revitalizing effects on the emotions.
General Information:

Botanical Name: Rosmarinus Officinalis C.T. Verbenone
Botanical Family: Lamiaceae
Derived From: Leaves
Origin: USA
Method of Extraction: Steam Distilled
Aroma: Fresh, Woodsy, Herbacious
Physical Description: Clear and thin consistency
Blends with: Bergamot, Black Pepper, Carrot, Cedarwood, Chamomile, Cinnamon, Clary Sage, Eucalyptus, Frankincense, Ginger, Grapefruit, Juniper Berry, Lavender, Lemon, Melissa, Mandarin, Peppermint, Pine, Tea Tree
Reiki Charged: All of the essential oils offered by Miracle Botanicals are Reiki charged by Hope Johnson. The Rosemary Essential Oil is charged with intent to clear and stimulate the conscious mind and nourish the physical and mental body.
Indications:
Emotions: Rosemary provides brain stimulation, improving mental clarity and memory loss. The oil also assists with concentration, fatigue, and nervous tension, as it provides efficient mental activity and is a nervine, which is a substance that calms nervous excitement. Rosemary essential oil is commonly used by students during exams in order to re-fresh and revitalize the brain, while removing any stale or stagnant mental activity!
Skin and Hair Care: Rosemary essential oil has been widely used to improve oily skin and acne prone skin. Rosemary is also excellent for removing dryness and toning the skin, as it is considered a beautifying aid for the face. Rosemary oil stimulates hair follicles and overall strengthens the hair. It also helps with premature balding and graying of the hair. Regular massage of Rosemary in the hair will assist with dry and flaky scalp.
Physical: Rosemary essential oil is analgesic, serving as an excellent pain reliever, as it may be massaged into the area experiencing headaches, sore muscles, muscle pains, arthritis, and rheumatism. The oil is widely used for many respiratory issues, as it is one of the best remedies. It has been used for treating and calming, sore throat, cold, flu, respiratory allergies and infections, and asthma.
Rosemary is anti-inflammatory, antiseptic, and antispasmodic, assisting with inflammation, inhibiting growth of bacteria and microorganisms, and suppressing spasms. The oil is also an emmenagogue, a substance that stimulates the flow of blood in the pelvic and uterus area, allowing for smooth menstruation and ease of any pains and discomfort in the uterus. The oil also greatly assists with any of the following: prostate, stomach cancer, breast cancer, lung cancer, colon cancer, gall bladder, liver, cataract, leukemia, heart, kidney stones, and sperm motility.
Spiritual: Rosemary stimulates flow of the conscious mind as well as maintains mental, spiritual, and physical health, allowing for overall longevity and vitality. Rosemary also increases love and protection.
Chakras Affected:
Second Chakra: Sacral Chakra – Rosemary essential oil acts as an aphrodisiac and assists in a lack of sexual drive. Rosemary is also anti-inflammatory and antispasmodic which assist with backache and sciatica near the second chakra.
Third Chakra: Solar Plexus Chakra – Rosemary essential oil strengthens self-esteem and self-empowerment. Rosemary also strengthens the digestive tract and the physical indications of the third chakra, while cleansing the liver and gall bladder.
Fourth Chakra: Heart Chakra – In the fourth chakra, rosemary essential oi
l strengthens the respiratory system by assisting with shortness of breath and tightness.
Fifth Chakra: Throat Chakra – Rosemary essential oil can be used for any ear conditions and earaches.
Sixth Chakra: Third-Eye Chakra – Rosemary can be used in the third eye chakra by steam inhalation for healing any sinus infections and increasing mental clarity.
Miracle Botanicals is the leading provider of Reiki charged pure essential oils that help people align with their Divine identity and return to their natural state of optimal health, abundance and well being. For more information, please visit http://www.miraclebotanicals.com.
The founder of Miracle Botanicals, Rev. Hope Johnson is devoted to being a clear channel for Divine inspiration and instruction. She is passionate about being a facilitator to expanding Consciousness here on the earth plane through her work and play. Her recorded spiritual insights can be found here: http://www.thewaytotheway.com