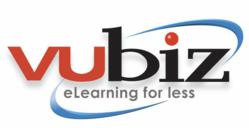 Los Angeles, CA (PRWEB) November 17, 2012
Vubiz Elearning is excited to announce the launch of a new video division after acquiring Vertical Line Media. Val Blolowski will head the new division as Vice President and continue leading the successful video business while expanding it further into Vubiz elearning offerings.
With the explosion of mobile learning, video has resurged as a vital component of today's elearning with its ease of working on all devices, higher level of engagement, unique ability to offer product support, and sleeker quality look.
Vubiz clients are requesting more video and it provides greater engagement as it combines audio, video and text and an emotional appeal. Clients want elearning to play on tablets and mobile devices and videos play perfectly on today's devices. Vubiz new business division answers customer and market demand and pushes Vubiz to the forefront of elearning development.
At a recent HR technology conference, elearning expert Josh Bersin said that "Forward-thinking companies are asking themselves how they can create YouTube-like experiences for their employees. Bersin said that's what young people expect today.
Video VP Val Blolowski has been involved in film and television production for over 25 years. He founded Vertical Line Media in 2007, a video production company which produces corporate videos and television commercials. He has worked as a producer, writer and director on many productions in Canada, the UK and South Africa. He has also held the position of Business and Production Manager at CBC News, overseeing the production of numerous television programs. As an independent consultant he was also hired by the CBC to review the online delivery of its educational content, and he worked with Queen's University to create the first online delivery of the Queen's Political Science undergraduate course using historical footage from CBC Archives. He holds an MBA from Queen's University.