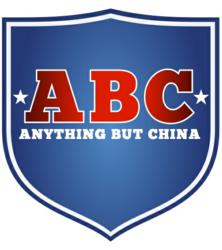 Money talks.
Los Angeles, CA (PRWEB) November 19, 2012
Startup incubator, Idea Marketplace, launches it's first new business…a sure to be controversial ecommerce site called Anything But China (http://www.anythingbutchina.com) that allows parents concerned about the safety of toys made in China to shop with confidence this holiday season.
Anything But China (ABC) sells toys and games that aren't made in China. The theory behind the site is simple: Money talks.
According to a recent study by the Pew Research Center, 52% of Americans view China's emergence as a world power as a major threat to the United States. Many Americans consider the large amount of debt owned by China, the loss of jobs to China, the U.S. trade deficit, China's human rights abuses, and the dearth of safety regulations in China to be very serious problems. In fact, 26% of Americans believe China to be the country that represents the greatest danger to the U.S. (higher than both Iran, 16%, and North Korea, 13%).
ABC gives the American public the option to vote with their wallets. As the first site to directly target products made in China, it risks adding more fuel to this highly politicized debate. Like many issues in America today, opinions for how to deal with China vary greatly. However, no matter the issue, one fact remains…money is a great motivator. As China's biggest customer, Americans can now express their displeasure with Chinese foreign policy by hitting China where it hurts the most, the bottom line. Maybe with enough financial pressure, the new leaders of China will be forced to change some of their more controversial policies for the good of their own people and the rest of the world.
ABC is still young, and is only selling toys and games for now. But its long-term vision is to sell a broad range of products to give concerned Americans a one-stop shop to buy quality goods that aren't made in China. For more information, contact a spokesperson through Idea Marketplace, LLC.