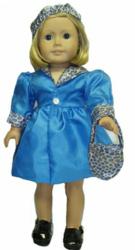 "Waiting in the freezing early mornings and nights can be daunting for your little girl and her best friend as well. While standing in the endless lines, this outfit will keep her dearest friend warm with a purse ready for her to spend her money."
(PRWEB) November 19, 2012
Holiday seasons and holiday spirits come once in a while and so does Black Friday. With just a few days away, parents will be shopping a great deal of time to get the best of the deals for their young ones and buy the best of dolls, doll clothes and doll accessories.
With a maniac day like this in the US with stores giving away great deals and with millions of people out shopping, parents along with their kids will be waiting like a face in the crowd in long serpentine queues for hours to take their chance for Black Friday deals.
Doll Clothes Superstore has, for every season, always endeavored to bring out the best in doll clothes, doll shoes, and accessories. Doll Clothes Superstore as a part of Black Friday Deals, is now out with its new addition; a "not-to-miss" three piece outfit for American Girl Dolls.
Describing this doll clothing, Mary Walsh, president of Doll Clothes Superstore.com says that this three piece outfit is for American Girl Dolls and 18 inch dolls. Other 18 inch dolls who can be smartly dressed with this three piece doll clothes ensemble, include Our Generation dolls, Journey Girls and Maplelea. This three piece outfit includes an eye catching blue coat, hat and working purse. The three pieces of doll clothing on a Black Friday special are selling for $8.85. Talking more about the outfit, Ms. Walsh, goes on to say that the eye catching icy blue coat is made from a shimmering faux silk fabric. Keeping with the trend this icy blue coat has been accentuated with the trendy grey animal print on its lapels and cuffs. This doll coat has been accessorized with a matching trendy grey animal print beret and a sling purse. One can complete this look with a pair of fashionable flat black patent doll shoes, which are sold separately and are selling on Black Friday for $5.99, and off she goes!!!
"Waiting in the freezing early mornings and nights can be daunting for your little girl and her best friend as well. While standing in the endless lines, this outfit will keep her dearest friend warm with a purse ready for her to spend her money."
Doll Clothes Superstore is an online-based doll clothing company, committed to providing top quality merchandise at affordable prices. Doll Clothes Superstore has doll clothes for the most popular brands of dolls on the market, like Barbie and Ken, GI Joe, American Girl dolls, baby dolls, including Bitty Baby, My Twinn and Cabbage Patch Kid dolls, Beanie Babies, and stuffed animals. In addition to this, Doll Clothes Superstore also offers doll accessories such as doll shoes, jewelry, hair clips, umbrellas, and hangars, and matching girl and doll clothes. Doll Clothes Superstore is independently owned and not affiliated with any doll manufacturer.