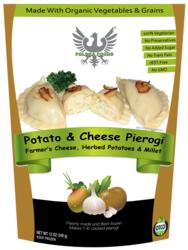 We are excited to offer Polska Foods pierogi to our West Coast distribution network...their pierogi is truly authentic and offers customers a healthy twist to an old world recipe.
Saratoga, CA (PRWEB) November 19, 2012
Polska Foods® Pierogi, a leading provider of authentic Polish pierogi made with organic ingredients, announced today a new distribution agreement with Tony's Fine Foods. Tony's Fine Foods will now distribute and promote the full line of Polska Foods' pierogi products throughout the West Coast beginning this month. One product, their savory Beef & Pork pierogi, will be available in late December for all retail grocery stores.
Founded in 1934, today Tony's Fine Foods has become the largest privately owned distributor of deli, food service, specialty, and perishable products in Northern California. Tony's distributes to Seattle and Portland, down through the coasts and valleys of Salinas, Sacramento, Bay Area, Bakersfield, Los Angeles, and into Western Nevada.
"We are excited to bring Polska Foods on and offer their gourmet pierogi to the hundreds of stores in our West Coast distribution network," says Jesse Schwartzburg, Corporate Account Manager at Tony's Fine Foods. "Their pierogi is truly authentic and offers our customers a healthy twist to an old world recipe."
Polska Foods currently sells four pierogi flavors using recipes from their grandmother's kitchen in Poland: Potato & Farmer's Cheese pierogi made with organic whole wheat or white dough, Mushroom & Cabbage vegan pierogi with sauerkraut and caraway seeds, and Spinach & Feta pierogi in an organic whole wheat dough. Each product required a year of research to find the local, organic farmers they could trust and then to test the recipe with each final ingredient. They currently sell in the frozen section of Whole Foods Markets and specialty grocery stores across the larger Bay Area.
"We believe this partnership represents a significant opportunity," said Tomek Piszczek, founder and product designer at Polska Foods. "We have customers from Seattle to Los Angeles demanding our healthy, gourmet pierogi and now they can enjoy our gourmet pierogi from their local store."
About Polska Foods®
Founded in 2011, Polska Foods offers specialty, organic pierogi from their grandma's kitchen in Lubiechowa, Poland. They offer whole wheat pierogi flavors with ancient grains, fresh vegetables, and award winning handcrafted farmer's cheese. Their pierogi contains no preservatives, no artificial flavors, and no GMO ingredients. They also use only organic or expeller-pressed oils--absolutely no trans fats in any products. Their pierogi is made fresh and then frozen to maintain quality and freshness, not precooked. Their pierogi is certified organic by Oregon Tilth. For more information about their pierogi products, visit http://www.polskafoods.com