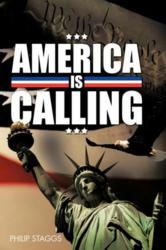 "America Is Calling" brings out his facts as to why there is so much conflict in the world today between Muslims, Secularism and America.
Plano, TX (PRWEB) November 16, 2012
In "America is Calling" (published by Trafford Publishing), author Philip C. Staggs addresses questions concerning America, such as "Have you ever considered the meaning in the words Truth, Liberty, and Freedom? Have you wondered what it means for America to have a designed mission that demonstrates exceptionalism and manifests our destiny? Have you pondered the relationship Darwinism, Atheism, Evolution and Christianity play in the role of the American family?"
Staggs invites individuals to read "America Is Calling," which he states "is one of the boldest and most forthright accounts concerning principles of liberty, truth, America, and the American family." "America is Calling" shows how the world today, according to Staggs, is overflowing with confusion and uncertainty and filled with economic concerns and worldwide political bickering. "America Is Calling" states Staggs factual reasons for today's worldly conflicts.
Through the use of biblical Scriptures, Staggs offers an unusual insight into how and why America came to be created and why America's four designed missions are so important to the world. Within these missions, Staggs describes the sacrifices made by the Founding Fathers with the hope that the American populace will strive to keep America based on "The Laws of Nature and of Natures God."
"America Is Calling" brings out his facts as to why there is so much conflict in the world today between Muslims, Secularism and America. Staggs points out that Atheism has been acknowledged by the U.S. Supreme Court as a true and recognizable religion and how that plays in the role of Christianity. He also shares with the reader the bonding of a covenant relationship America has with Israel.
Staggs details concerns for the America family and lays out his five key points society must comprehend about the family if they want to maintain our society and strengthen our nation. Thomas Jefferson says, "If a nation expects to be ignorant and free, in a state of civilization, it expects what never was and never will be." "America Is Calling" shares what individuals must do to overcome ignorance to be free.
Benjamin Franklin stated the constitution is a "Republic if we can keep it." President Ronald Reagan once said, "If we ever forget we are 'One Nation under God', we will go under." When reading this book, readers are invited to search for inner self for answers to questions such as: "What does America really mean to me?," "Where do I stand when it comes to holding to 'The Spirit of America'," "What does it really take for one to claim to be a true patriot?" and "How much am I willing to give to keep America a republic?"
Staggs believes that opening this book will answer all of these questions that will change readers' lives forever. "Do not continue waiting, for 'America Is Calling,'" Staggs says.
About the Author
Philip C. Staggs graduated from Buena Park High School where he was the senior class president. He obtained a bachelor's degree in education from Whittier College. After serving in the U.S. Army, he taught high school and coached football and track. He worked for Smalley and Co. for 20 years before moving from California to Texas. He was married to Sandra Moorhead for over 40 years and has 10 children.
Trafford Publishing, an Author Solutions, Inc. author services imprint, was the first publisher in the world to offer an "on-demand publishing service," and has led the independent publishing revolution since its establishment in 1995. Trafford was also one of the earliest publishers to utilize the Internet for selling books. More than 10,000 authors from over 120 countries have utilized Trafford's experience for self publishing their books. For more information about Trafford Publishing, or to publish your book today, call 1-888-232-4444 or visit trafford.com.