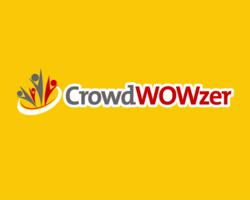 We are working to raise public awareness of crowdfunding.
Houston, TX (PRWEB) November 16, 2012
In a unique move to demonstrate the power of crowdfunded offers, Conzortia Business Funding, Inc. is giving a free Texas Quick Pick Lottery Ticket to all individuals who list their crowdfunding project on the new platform for indie artists, film makers, musicians and game and app developers at CrowdWOWzer.com
"We want to stress to the public the power and value of crowdfunding, hence the symbolic representation of the possibility of acquiring millions of dollars via the Texas Lottery. Crowdfunding will provide billions of dollars over the next year to successful project owners. CrowdWOWzer.com will play an integral role in that funding facilitation. We are working to raise public awareness of crowdfunding as an option for their financial needs," said Robert Dobyns, President of Conzortia.
Crowdfunding is a hot topic among today's entrepreneurs. Its popularity has been driven in part by the huge success of projects which have raised millions of dollars recently. The inclusion of equity-based offerings as a result of the JOBS Act passage has also heightened awareness about crowdfunding.
But while the nation awaits the advent of equity-based crowdfunding, sites like CrowdWOWzer.com are assisting individuals and businesses in raising much needed capital via the donation or reward-based crowdfunding model now.
CrowdWOWzer.com focuses on promoting concepts, ideas and products presented by artistic entrepreneurs," Dobyns stated. "This venue will assist American artists and developers in overcoming the tallest hurdle in promoting their concept - funding. Innovative, energetic and passionate projects will be rewarded with the needed capital to make their dreams a reality at CrowdWOWzer.com. And for a limited time, we are waiving our platform fee for new project listings and sending a nationwide press release to help these projects get off to a fast start. We're doing our part to help to stimulate the economy and create jobs."
'What are the requirements to list a project at CrowdWOWzer.com?' we asked.
"U.S. citizen or legal resident, with a U.S. bank account, 18 to 107 years of age and have a great concept," Dobyns replied. "We want to identify the great, creative minds of the 21st century and help them with their creative projects! Our current lottery promotion is for new listings through Nov. 30, 2012 and is void where prohibited by law."
For more information, or to list your creative project (or fund a project), visit http://www.CrowdWOWzer.com