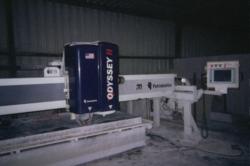 Made in the USA, Backed in the USA
Punta Gorda, FL (PRWEB) November 16, 2012
Discover the real world of CNC Router performance and productivity when you choose Park. "Park has installed over 7,000 stone-cutting machines worldwide," states Joe Alva executive at NRS Equipment Inc. "With a history like that it makes sense that they sit at the top amongst the competition." Industry leaders stand by Park, they are headquartered in St. Cloud Minnesota with a large staff passionate about customer service.
StoneMachineryLocator.com leading web destination for renovated stone machinery is selling a CNC Router the 2003 Park Industries Odyssey II. This used stone machine is listed at $28,750 a very affordable price well over six figures less than it cost new. The 3 axis used CNC machine has a table size of 10' x 6', a 7.5 HP spindle, and variable speed from 1000-9000 RPM's. ¬¬¬ "This CNC router is in excellent condition. It was de-installed by an expert factory trained technician in the Midwest United States," Joe states. "The machine is easy and ready to be installed with its lightweight construction." The used machine also features a Gantry driven by two brushless Servo motors, coupled to a low backlash gear drive system. Heavy duty hardened rollers riding on a round way and flat rail are driving this system. The vacuum system comes complete with three way slide valves, coil hose and fittings. Several quality photos of the Odyssey can be seen by linking here its ad at StoneMachineryLocator.com. Some of the tooling and vacuum pods seen in these photos are included. The tools are manually interchangeable with less chance of breaking the spindle.
Many companies in the industry are now leaning toward used stone equipment options. This is obviously based on the large cost savings. These used CNC machines also have very comparable ability to meet customers productivity needs of kitchen and bathroom countertops when compared to the new machines. StoneMachineryLocator.com hands down has the number one selection in refurbished CNC router's for stone. They also have many more categories and a large selection of used stone equipment including but not limited to bridge saws, used stone saws, granite saws, marble machinery, edge polishers, and water jets. However, customers in the new machine market should look to Poseidon Machinery a new stone machinery line (here). Poseidon Machinery prides themselves in being a top manufacturer of new machinery in the USA with almost all models being produced here. Poseidon Machinery executive Jose Alva excitedly reports, "We are striving to soon be able to provide the industry with all our machinery right here in the 50 states and keep our great pricing."
All customers in the industry in the market for a used CNC machine should head to StoneMachineryLocator.com and view the 2003 Park Industry Odyssey II. Joe states, "we are confident the machine will sell quick with the listing price being an outright steal." Another benefit companies can take from this machine is it's low maintenance compared to bigger, heavier machines. Joe Alva can be contacted for customer support and other questions regarding your stone machinery needs. You can easily reach him by phone or email with the info found (link here).