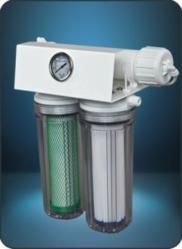 Experience pure water from your tap with half the waste.
Van Nuys, California (PRWEB) November 17, 2012
Leading an effort to educate the public on the downside of traditional, high-waste reverse osmosis sytems, WholeHomeReverseOsmosis.com has officially launched its new product, Mineraline RO Systems.
Many reverse osmosis systems on the market offer at best a 4:1 waste to recovery ratio. What this means is that for every gallon of pure water produced, 4 gallons of waste water go down the drain. In some systems, this may be as high as 8:1. Waste water is not only bad for the environment but is also bad for your wallet.
All Mineraline systems offer a waste ratio of 2:1 with some systems delivering .25:1 which means clients use anywhere from 50% to 95% less water.
On the website, consumers will learn a large percentage of bottled water in the United States is just purified tap water. Instead of paying in excess of $3 per gallon with bottled water, consumers can use reverse osmosis water filters as a way to obtain ultra-purified water straight from the tap. In addition, by reusing a water bottle, Americans can prevent over a billion plastic bottles from going to a landfill in a year.
Reverse osmosis water purification provides consumers pure drinking water from the tap at over 99% reduction in cost per gallon as compared to bottled. Recent studies by the Food and Drug Administration has shown that bottled water is not necessarily better for you than tap water as both may contain chemicals and bacteria harmful to your health. A simple under sink reverse osmosis system can remove these substances for about $0.05 per gallon.
WholeHomeReverseOsmosis.com offers pre-built reverse osmosis systems and can custom build systems to each customer's order depending on the specific needs of the client. For example, a homeowner using well water will have different filtration needs than a client using a municipal water supply. A free consultation is provided to determine the needs of the customer.
The reverse osmosis systems available are built in the USA utilizing professional grade components of which 95% are made in the USA. All Mineraline systems are shipped with a proprietary reverse osmosis membrane from Dow Chemical and an optional remineralization stage that replaces many of the beneficial minerals stripped away by the membrane such as calcium and magnesium.
Systems are customizeable from 3 stages of filtration all the way up to 9 stages. With over 10 years of experience, the manufacturer for WholeHomeReverseOsmosis.com has the experience to supply the best reverse osmosis system at a great price.
About http://www.WholeHomeReverseOsmosis.com : We provide reverse osmosis drinking water filtration systems direct from the manufacturer made in the USA. Our systems feature an ultra-low waste water ratio while still providing the most pure, best tasting water from your tap. Visit for a free consultation on choosing the right reverse osmosis system for your needs.