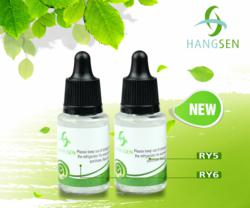 Hangsen is constantly striving to make innovation and enhance the satisfaction of our customers
Shenzhen,China (PRWEB) November 19, 2012
RY4 is one of the most favorable E-liquid flavors used in electronic cigarette devices around the world. It was created by Hangsen's CEO, Mr. Yao and his research team in 2006. After several years of research and development, the team is proud to launch two new amazing flavors in the RY series: RY5 and RY6. These two new members of the great RY series will continue the popularity of RY4 worldwide and become one of the best sellers in your inventory.
RY5, a richer and stronger flavor than RY4, inherits the flue-cured tobacco flavor of RY4 and is a combination of various tobacco flavors. With less sweetness and fragrance, it helps vapors to enjoy the blended flavor of tobacco.
RY6, a breakthrough of RY series, whose flavor being infinitely close to traditional cigarette. With pure flavor of tobacco and without sweetness and fragrance, vapors can sense the superior feeling of tobacco. It offers customers the most realistic experience comparable to the regular cigarettes.
"Hangsen is constantly striving to make innovation and enhance the satisfaction of our customers. We continue to develop new E-liquid flavors to suit customers fast changing needs" according to Jide Yao , CEO of Hangsen Holding Co.,Ltd.
About Hangsen
Hangsen is world's largest manufacturer of E-liquid. The company is working with the top retailers worldwide to help local governments understand E-liquid and create regulations.
http://hkhangsen.com/default.aspx