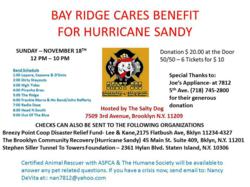 Brooklyn, NY (PRWEB) November 16, 2012
Brooklyn music legend Frankie Marra headlines a day of bands performing for the victims of Hurricane Sandy at the 'Bay Ridge Cares' benefit hosted by Brooklyn's Salty Dog this Sunday November 18 from 12:00 PM to 10:00 PM.
The veteran musician joined New York real estate attorney Robert Howe on his radio show Howe's New York to discuss his upcoming charity efforts for the victims of Hurricane Sandy.
The event, which will benefit the Breezy Point Coop Disaster Relief Fund, The Brooklyn Community recovery, and the Stephen Siller Tunnel To Towers Foundation.
Franke Marra & His Band will be joined by John Rafferty, Lepore, Cassone & D'Emic, Dirty Stayouts, High Tides, Piranha Bros., The Ridge, Radio Daze, Head N South, and Out Of The Blue.
Tickets are $20 each at the door and the ASPCA and Humane Society will be on hand to answer pet related questions.
The Salty Dog is located at 7509 3rd Avenue in Brooklyn, NY 11209.