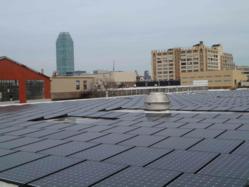 It just made a lot of sense. Thanks to funding from NYSERDA, tax incentives and other funding sources, the system will quickly pay for itself.
New York, NY (PRWEB) November 16, 2012
Linear Lighting Inc., a manufacturer of industrial lighting fixtures based in Queens, is now receiving up to 23 percent of its electricity from solar power produced on-site. Funding from the New York State Energy Research and Development Authority (NYSERDA) helped pay for the system.
The company estimates that the 261-kilowatt system, which came on-line earlier this year, will save the company about $75,000 per year on its power bills.
Linear Lighting is the first of a variety of major solar photovoltaic (PV) installations expected to be installed this year in New York City as the result of NYSERDA's competitive customer-sited regional PV program. The program is designed to encourage large-scale renewable-energy installations in New York City, Westchester County and the southern Hudson Valley.
NYSERDA's competitive customer-sited PV program is part of Governor Cuomo's NY-Sun Initiative, which will double the amount of customer-sited solar power installed annually in New York this year, and quadruple that amount by 2013.
"Under the leadership of Governor Cuomo, and through his NY-Sun initiative, New York is able to offer companies like Linear Lighting the opportunity to invest in solar power that will result in substantial savings which can be reinvested back into the company," said Francis J. Murray Jr., President and CEO of NYSERDA. "Linear Lighting serves as an example of how investing in renewable energy is one way the state can reduce the demand that large power consumers place on the grid."
Under this program, NYSERDA pays part of PV project construction costs, as well as payments for the first three years of power production. The amount of funding varies by customer and is confidential to ensure that the program remains competitive.
Ross Solar Group LLC, a contractor that has designed solar projects in New York City and around New York State, installed the Linear Lighting PV system. The project included 848 solar panels on the flat roof of Linear Lighting's 110,000-square-foot manufacturing facility in Long Island City, Queens.
"Ross Solar Group was honored to partner with NYSERDA and successfully install the first commercial solar electric system under this program at Linear lighting," said Jason Ross, CEO of the Ross Solar Group.
Linear Lighting co-owner and President Larry Deutsch said the company had considered investing in solar power for several years, and decided to make the investment after learning about government incentives. "It just made a lot of sense. Thanks to funding from NYSERDA, tax incentives and other funding sources, the system will quickly pay for itself," he said.
NYSERDA, a public benefit corporation, offers objective information and analysis, innovative programs, technical expertise and funding to help New Yorkers increase energy efficiency, save money, use renewable energy, and reduce their reliance on fossil fuels. NYSERDA professionals work to protect our environment and create clean-energy jobs. NYSERDA has been developing partnerships to advance innovative energy solutions in New York since 1975.
Ross Solar Group, a family owned and operated solar design and installation company, was founded in 2007. Ross Solar Group was named the Sunpower Commercial Dealer of the year in 2011 and has installed over 350 commercial, residential and municipal solar electric systems in New York, New Jersey, Connecticut and Massachusetts. For more information: 203-512-4500 or http://www.RossSolarGroup.com
Linear Lighting was founded in 1968, the family-owned company employs 115 people making high-end commercial lighting fixtures.