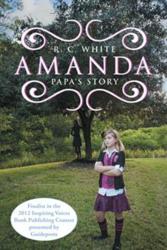 The book demonstrates how personal traits learned early on can affect future actions. This is not science fiction; it is today fiction.
Kingwood, TX (PRWEB) November 17, 2012
In his new book, "Amanda: Papa's Story" (published by Inspiring Voices), R.C. White pens the story of an indelible grandfatherly bond that rescues a teenage girl from adversity and propels her into the unknown, questioning whether or not Papa's teachings can save her from herself.
Within hours of her birth, Amanda's grandfather beams as the nurse places his tiny granddaughter in his arms. With her face only inches from his, Papa smiles as a short arm reaches up and touches his chin. Amanda has captured her grandfather's heart forever.
As the beautiful cherub baby Manda Bear and Papa develop a seemingly unbreakable bond, they play with dolls, jump on the backyard trampoline, and develop a passion for golf together. Papa is always there as a playmate. But as Amanda's coming-of-age journey leads her into adolescence, the precocious teenager becomes troubled. Amanda's parents attempt to deal with rebellious behavior that eventually lands her in jail and she begins to isolate herself from all who love her. When Amanda disappears without a trace, her family's once happy world is turned upside down.
In this compelling tale, as a frantic search for Amanda begins, her grandfather must learn to trust that all he has taught his beloved granddaughter in her younger years can somehow save her from herself – and allow her to discover her true destiny throughout her adulthood.
"Amanda is a real child, already displaying all the traits that the book embellishes," White explains. "She is not perfect; she has problems that she alone must overcome. Amanda's actions chronicle many activities that teens do today and their feelings about various issues. The book demonstrates how personal traits learned early on can affect future actions. This is not science fiction; it is today fiction."
About the Author
R.C. White holds engineering and business degrees and has enjoyed a progressive career in the petrochemical industry, capped by a CEO position in a multimillion dollar corporation and front-page coverage in the Wall Street Journal. He has written several dramatic scripts, including "This Is Your Life, King David." He lives in Houston with his wife, two daughters, son-in-law and two granddaughters.
Inspiring Voices, a service of Guideposts, is dedicated to helping authors share their words of hope, faith and inspiration with the world. A strategic publishing partnership with indie book publishing leader, Author Solutions, Inc.; Inspiring Voices allows authors to publish inspirational and spiritual books without respect to their specific doctrine, denomination or political point-of-view. Authors published through Inspiring Voices benefit from access to exclusive Guideposts marketing services, with select titles appearing in a special collection at Guideposts.org. For more information on publishing with Inspiring Voices, log on to inspiringvoices.com or call 866-697-5313.