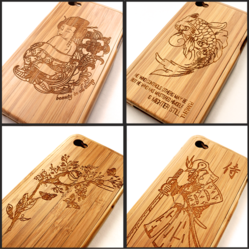 San Francisco, CA (PRWEB) November 22, 2012
Black Friday shoppers looking for the perfect gift can order bamboo iPhone cases by Mantrastyle for only $35 (regularly $54.95) the week of Black Friday. Featured on The TODAY Show's Black Friday web special, "Stocking Stuffers That Give Back," Mantrastyle encourages iPhone users to test the limits of their creativity by coming up with their own designs.
With iPhones being a person's most prized possession these days, it's only fitting that they encase it with a product as unique as they are. Mantrastyle owner Grace Tai says it's all about connecting with people and giving them a product they can enjoy every single day. "Delivering happiness to as many people as possible is definitely a goal worth working to achieve," says Tai.
According to a Pew Study, 88% of young adults own a cell phone. Many of those mobile phones are iPhones. With those statistics, it's easy to feel like just another person with a popular mobile device. But Mantrastyle's design process allows a cell phone to become an extension of each user. The company's custom laser-engraved bamboo cases allow shoppers to express their eco-friendly lifestyle with a stylish product made of sustainable, affordable bamboo.
About the company: Mantrastyle designs personalized bamboo iPhone cases, which are custom engraved and eco-friendly. Each case creation is completely customizable, unique, and environmentally-sustainable. It's a mobile form of creative self-expression on the go. To see what Mantrastyle can do for you, visit http://www.Mantrastyle.com. Featured on The TODAY Show.