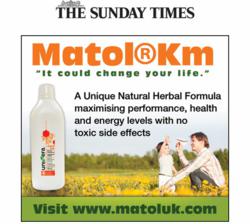 Matol Km: Giving you that extra something.
Cardiff, UK (PRWEB UK) 18 November 2012
Matol UK has recently signed to advertising and design agency Web Windows Marketing. Chris Langley, Sales Manager of Matol UK says: "we are delighted with the feature design and we are looking forward to seeing the results". Already Matol UK are seeing feedback and orders.
Matol Km is a formula of essential bitter herbs and minerals. They are critical for digestive health. Generally, they have been removed from conventional diets primarily due to their pungent taste. Matol Km provides these natural phytonutrients and is a great source of recommended daily minerals, in particular potassium and iodine.
Invented in 1922 to maximise performance, welbeing and energy levels with no toxic side effects, over 40 million bottles have been sold worldwide since mass-production in 1984.
Dr. K. Clark, PhD, Director of Sports Nutrition, Penn Sate University says: 'In the 10 years I've been involved with Matol, I have personally listened to over 3,000 individuals who have used Matol Km tell me personally how their health has changed.'
'We are also delighted to announce our new Facebook page for Matol at facebook.com/13herbs.' says Chris Langley. Matol UK is part of Sanctuary Health & Nutrition Ltd, based in Cardiff, UK. They can be contacted on 02920 733324 or email sales(at)matoluk(dot)com