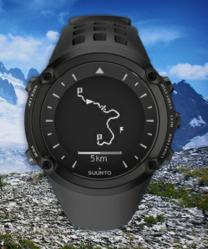 This makes the consumer a winner because the company advances the product progressively based upon their feedback
Bozeman, MT (PRWEB) November 16, 2012
About everyone in the military has heard about the Suunto Ambit and Garmin fenix GPS watches that navigate and do fitness. They are the most rugged, cutting edge GPS tools available and the Heart Rate Watch Company is offering a special US military 10% off discount.
"We have always supported our men and women in uniform with discounts and APO shipping", says Rusty Squire, President of the Heart Rate Watch Company. He adds, "These two products are virtual life saving navigational tools that offer data, mapping and data like no other products in history."
Both the Suunto Ambit and the Garmin fenix have significantly advanced the technology of wrist top navigation and created a whole new category of GPS watch that does both fitness and navigation with maps. "It is unprecedented and this technology just keeps advancing with every firmware update", says Squire.
The unique thing about today's GPS watches is that they can continue advancing long after their introductions based upon firmware updates. "This makes the consumer a winner because the company advances the product progressively based upon their feedback" Says Squire.
"I've used both watches, they are rugged, built to last, use real crystals and offer great navigation features, plus fitness information related to heart rate, speed, distance", says Squire.
Any military personnel can call the Heart Rate Watch Company on their toll-free number at 866-586-7129 to receive the discount code or simply e-mail them at support@heartratewatchcompany.com. "While we would love to publish the code this leads to abuses by non-military and we only offer this discount for active and retired military personnel", says Squire.