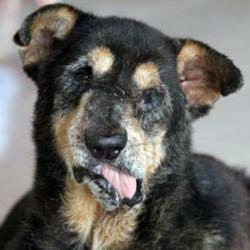 Wuffitmix aims to help stop the "Trade of Shame"
(PRWEB UK) 21 November 2012
This month Hannah Dugdale of Wuffitmix will be travelling to Phuket to meet the dog her working dog food company has been sponsoring at the Soi Dog Foundation. From the 21st November Hannah will spend two weeks volunteering at the charity and meeting the staff as well as the 300 plus cared for canines.
The Soi Dog Foundation is a non-profit charity in Thailand that aims to educate the people of Asia on animal welfare. They rescue hundreds of neglected and abused dogs off the streets of Thailand and bring them back to health before find them homes with loving owners. They actively sterilize all dogs and cats that come into the shelter as they strongly believe this will drastically reduce the number of unwanted animals. They aim to spread this message to the local people so the number of homeless, feral and stray dogs and cats are reduced. By October this year the Soi Dog Foundation had sterilized a massive forty three and a half thousand dogs and cats in Asia.
Hannah will be meeting Wuffitmix's very own sponsored dog Wuffit, named after the complete dog food company that regularly donates money towards her care. She has also been promised that her first task will be to walk one dog that has particularly caught her eye and who has also had an extremely hard time due to the meat trade in Asia. The Soi Dog Foundation rescued eleven year old Pimghon as he was found with his jaw wired shut. He's since had to have his tail amputated but is making good progress and eating his dog food with gusto – despite having to be hand fed by volunteers at the shelter.
Hannah will work closely with Cindy Amey during her two week stay and will use her time to develop a deeper understanding of the meat trade in Asia that affects so many dogs and cats. She will also be assessing how Wuffitmix can play a part in helping to end this "Trade of Shame".
Hannah Dugdale is looking forward to her visit, she says, " I've been told my first job will be to take Pimghon for a walk. It will be great to meet the people we've been working with at the Soi Dog Foundation as well as the dogs. This is a charity I am so passionate about and hope that WuffitMix can play a major part in spreading the word about the amazing work they do."
WuffitMix is a range of nutritionally complete diets for working, sporting and domestic dogs - from puppies to seniors. Wuffitmix' is owned by Dugdale Nutrition, a family run animal feed manufacturer based in the North West of England. The business dates back to 1850 and spans over 6 generations, with 2 generations currently working at the company premises in Clitheroe, Lancashire.