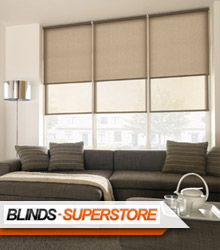 Blinds Superstore received the industry accolade for best blinds.
(PRWEB UK) 20 November 2012
This week Blinds Superstore were awarded the Duo Roller manufacturer accredited status within the industry. This award recognises the quality and value of their custom made dual roller blinds that are produced on site at the Blinds Superstore Warehouse.
As well as sourcing blind solutions for home owners the team at Blinds Superstore also design and manufacture a range of blinds to ensure they always offer their customers a product that cannot be sourced elsewhere. These methods have now paid off as now their dual roller blinds are being hailed as the best prestige duo roller blind on the market as they are recognised for being amazing value for money.
Despite the work that goes into making these duo roller blinds, Blinds Superstore have also been recognised for being the best priced company in the market. This accolade combines quality, craftsmanship and price to give a holistic recommendation to consumers. The Blinds Superstore Duo Roller Blinds operate using a unique chain. This chain is made up of a series of beautiful glass balls giving it a delicate appearance while still being strong enough to carry the weight of the blind.
This success has prompted Blinds Superstore to bring their new product to the market, the venetian blinds made to measure for bathrooms and kitchens use PVC to give a wooden appearance however don't warp with moisture as natural wood does. Each blind is very hard wearing and can separate rooms or dress windows as they are constructed to be perfect fit blinds UK weather proof.
Ryan Gladwin is understandably thrilled with this recent success he says, "It's great to be finally recognised for the hard work we put into making all of our blinds. I'm so proud of our team as together we've brought to the market products that exude quality but also offer affordability which is crucial in today's economic climate."
The Blind Superstore offers an extensive range of window dressings for the discerning consumer. Always seeking the most modern contemporary designs they import the best blinds to sell to interior designers and homeowners. The Blind Superstore also produces their own designs in house, cutting out the middle man and passing on savings to their valued customers. They stock everything from Venetian window blinds to wood blinds to the latest fashion of the duo roller blind.
For more information visit http://www.blinds-superstore.co.uk.