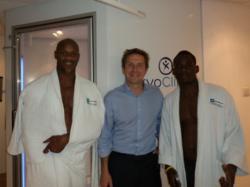 We are working with an increasing number of professional athletes to aid their recovery after intensive training. Whole Body Cryotherapy is becoming an established element of an athlete's training regime, providing them with a valuable competitive edge
(PRWEB UK) 16 November 2012
How do you keep fit and healthy? Well, if you are like an increasing number of people you may work out at the gym a couple of times a week but what happens if you get an injury such as pulling a muscle?
You will probably just live with it and hope that it goes away but, if it doesn't, you might make an appointment to see your GP who may refer you to a physiotherapist.
However, you will be interested to learn that there is another form of treatment that, in recent years, has been used effectively by some of the world's top sportspeople and athletes -Whole Body Cryotherapy. It has been proven to reduce pain and swelling, inhibit inflammation, improve the function of your joints, reduce muscle tension and can speed up your recovery.
Other health benefits include an improvement in your general feeling of well-being by reducing stress levels and improving the condition of your skin.
It involves standing in a chamber usually in your swimwear with a mask on, under supervision, at temperatures as low as minus 110°C. The whole of your skin is cooled resulting in your skin's temperature receptors communicating with your brain. Your brain sends messages through your body resulting in your peripheral blood vessels constricting causing your blood to be re-routed to your body's core and conserves heat. That same blood, once the treatment session is finished, is re-distributed quickly around your body thus increasing the supply of nutrients and oxygen to the part(s) of your body that requires rejuvenating including your muscles.
This procedure also results in the stimulation of your central nervous system, immune system, hormone system and endocrine system.
The Welsh Rugby team is one of the fittest teams on earth participating in what is an extremely physical game that frequently results in numerous physical injuries. Many of their players used Cryotherapy to enhance their sports recovery whilst training at Spala in Poland leading up to the Rugby World Cup in 2011 when they reached the semi-finals. Leading up to the Six Nations in 2012, when they won the Grand Slam, some players again benefited from this treatment and continued to reap its benefits during the build-up to the autumn internationals in 2012.
There cannot be many people who have not heard of and seen Mo Farah's two races when he won gold medals at the Olympic Games but were you aware that he used Cryotherapy whilst training in the US prior to the Olympics to build up his strength and fitness?
Tony McCoy, who was the first jockey to win the Sports Personality of the Year contest in 2010, used it to treat a serious back injury back in 2010 to enable him to recover in time to take part at Cheltenham.
Franck Ribery, who has twice been French Footballer of the Year and won two Bundesliga titles, benefited from this treatment helping him recover for matches in the group stages of Euro 2012.
Asafa Powell, sprinter, who held the 100m world record from June 2005 to May 2008 and has run the 100m in less than 10 seconds on at least 80 occasions (more than any other runner), used Cryotherapy effectively at Cryotherapy Clinics in London, following his injury in the 100m final at the London Olympics.
Iain Casey from London based CryoClincs says "We are working with an increasing number of professional athletes to aid their recovery after intensive training. Whole Body Cryotherapy is becoming an established element of an athlete's training regime, providing them with a valuable competitive edge".