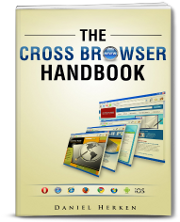 Munich, Germany (PRWEB) November 29, 2012
"Today's modern web applications need to run on a wide range of browsers and mobile devices. The same code should work on the iPhone and Internet Explorer 7." says author Daniel Herken. "Web designers and developers want to use modern web technologies like HTML 5 and CSS 3 but still need to maintain backward compatibility."
After reading the Cross Browser Handbook you know how to create modern and compatible websites which work in modern browsers, mobile devices and legacy browsers like Internet Explorer 6, 7 and 8.
The book covers the basics as well as HTML 5, CSS 3, JavaScript, mobile and cross-browser testing. And, best of all, the Cross Browser Handbook comes with various online resources like a knowledgebase, code templates and workshops.
Daniel Herken has been a contract software developer in Germany for the past years, specializing in cross-browser and cross-device web development. His company, BrowseEmAll, has created a cross-browser testing tool to help his fellow developers test websites. In this book he describes his knowledge gained by hundreds of hours searching and fixing cross-browser compatibility problems.
Additional Resources and more information about the book, including table of contents, author bio, and cover graphic, see: http://www.crossbrowserbook.com
For a review copy or more information please email reviews(at)crossbrowserbook(dot)com. Please include your contact information.