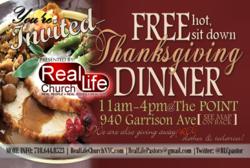 Hunts Point, NY (PRWEB) November 16, 2012
Food will be served from 11am to 4pm on Thursday, November 22nd at The Point, located at 940 Garrison Avenue in Hunts Point. Meals will be served on a first come first served basis and anyone who does not have a home in which to spend Thanksgiving dinner this year is welcome to attend. Our partner, The Point, will be hosting this event and food will be provided by The Bowery Mission.
This event follows an incredibly successful optical and medical fair hosted by the Real Life Church and Vision4Christ in mid-October. Hundreds of community members were seen by optometrists and doctors, received free glasses, participated in Zumba classes and received nightly sermons on the street in Hunts Point.
The community has donated clothing and toiletries and these will be provided at the dinner for those in need.
For more information about this event, please contact Pastor Reggie Stutzman at the Real Life Church.
Real Life Church (RLC) is located in the Hunts Point section of the Bronx. Just a year and a half old, RLC is continually reaching the community in efforts to bring awareness of the church to the community as well as being a part of the social-economical issues in Hunts Point. For example, for the past two years RLC has held a Thanksgiving Day Outreach. For the last two years combined RLC has fed over 1,200 people. RLC has also held back to school events, distributing over 500 free backpacks with school supplies.