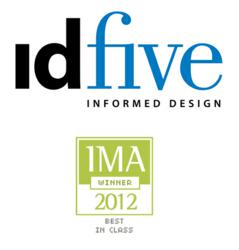 Baltimore, MD (PRWEB) November 16, 2012
Baltimore based interactive marketing agency, idfive is proud to announce that it is the recipient of a 2012 Best in Class Award bestowed by the Interactive Media Awards for its development of the University of Maryland School of Pharmacy website. idfive received the Best in Class distinction in the education category, and was honored among top agencies from around the globe including Digitaria, HUGE, SapientNitro and Disney Interactive.
The Best in Class Award, given by the Interactive Media Awards recognizes the highest standards of excellence in website design and development and honors individuals and organizations for their outstanding achievement.
Andres Zapata, SVP of strategy for idfive commented, "We are excited to share the Best in Class win with our friends at the School of Pharmacy. To have our work honored alongside major brands is a tremendous accomplishment and a testament to the quality of work our team is capable of producing."
idfive designed the University of Maryland School of Pharmacy website in an effort to create an accessible and intuitive experience for the School's diverse audiences. After extensive research and analysis, idfive set the site's strategy, design and information architecture to support the School's brand and strategic attributes—reinforcing their position as the convergence point of practice, research, and education. The new University of Maryland School of Pharmacy site employs the best practices of SEO, responsive design and usability techniques to enhance the user experience on all platforms and devices. The site's information architecture follows higher-education conventions while its bold, contemporary design highlights their key differentiators. The award-winning site can be viewed here: http://www.pharmacy.umaryland.edu/
The Interactive Media Awards were created by the Interactive Media Council, Inc. (IMC), a nonprofit organization of leading web designers, developers, programmers, advertisers and other web-related professionals, to elevate the standards of excellence on the Internet.
About idfive: idfive is an integrated, interactive advertising, web design, brand consulting and digital media agency specializing in higher education, not-for-profit, business-to-business, and healthcare organizations. Founded in 2005, the Baltimore based firm creates working solutions for clients throughout the United States. idfive utilizes the principals of informed design to focus real knowledge of markets, audiences, competitive situations and technologies to create strategies that deliver results.
For more information on idfive please contact Colleen Riopko at colleen(dot)riopko(at)idfive(dot)com or visit http://www.idfive.com.