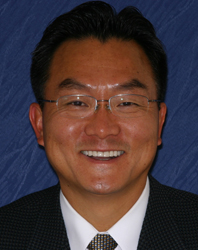 Arlington, VA (PRWEB) November 17, 2012
Dr. Duke Kim has joined the ranks of an elite few that are trained in the Laser Assisted New Attachment Procedure, or LANAP, for treating gum disease. As part of one percent of dental professionals offering LANAP, he is excited to bring this new technology to his Arlington patients. It is the only laser treatment for periodontal disease that has been cleared by the FDA to date. It is also the only laser with the science, research and human histological studies backing its success.
There are millions of adult Americans who have gum disease, and many of them do not seek treatment. Traditional gum surgery can be very painful and requires a long healing process. Yet, there are many dangers when gum disease is left untreated. These dangers include sore and bleeding gums, bone degradation and tooth loss. In addition, gum disease has been linked to health problems of a more serious nature such as heart disease and diabetes.
The LANAP procedure helps eliminate gum disease and heals the affected gum tissue. The procedure is very straightforward. First, Dr. Kim will use a probe to determine how deep the bacteria are located and then target the bacteria with the laser. The surgery is not very invasive and does not use a scalpel or require sutures, as does traditional gum surgery. The PerioLase MVP-7 laser is designed to specifically target damaged or diseased tissue and bacteria while allowing healthy gum tissue to remain intact. This means that there is a reduced amount of gum recession due to the procedure, which can help protect teeth.
Next, the gum tissue is stimulated through clotting to re-attach to the nearby tooth, and the bone is also stimulated to begin the regeneration process. Pain is reported to be minimal throughout the procedure, and no stitches are required. There is very little down-time required for this procedure and most patients are able to return to normal activities within a short time.
To learn more about LANAP and gum disease treatment options, visit http://www.ballstondentalarts.com.
Ballston Dental Arts is a general practice offering patients personalized dental care for Arlington, VA since 1988. Dr. Duke Kim received his Dental Degree from Georgetown University Dental School and studied at NYU Institute for Advanced Studies in Dental Aesthetics. He is part of one percent of dental professionals providing the most recent FDA cleared laser procedure for gum disease and periodontal treatment. To learn more about Ballston Dental Arts and their dental services visit their website at http://www.ballstondentalarts.com.