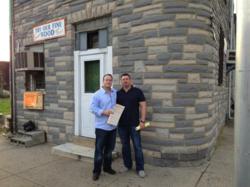 Philadelphia, PA (PRWEB) November 17, 2012
Grady O's, the new Irish Pub in Philadelphia, announces their grand opening, taking place on Thanksgiving Eve. Come out and celebrate Grady O's grand opening with the biggest Pig Roast celebration to ever hit Philadelphia. The new bar will also be serving up half-price drinks all night long. Guests of Grady O's will not run out of drink choices, because the bar will have over 60 craft beers on hand for the celebration. Along with an extensive craft beer selection, Grady O's will feature 20 different hot dog combinations to choose from, making them the premier hot dog bar in Philadelphia.
"This will be a great night for all," said Co-Owner, Lance Bachmann. "We are very excited to be celebrating our grand opening on the biggest drinking night of the year and we hope everyone can come out. Our goal is to serve you guys some great tasting craft beers at a great price and have some fun, Fishtown style." The party won't stop on Thanksgiving Eve. Grady O's will feature daily drink specials and the bar already has more parties lined up down the road, including an End of the World party in December.
About the Bar:
Grady O's, located at 1444 North Frankford Avenue, is centered in the heart of the Fishtown section of Philadelphia. Wanting to add value to the Fishtown neighborhood, owners Lance Bachmann and Sam Zeitlin renovated the entire building, making it a great location for locals of the community to come together. When people think of Philadelphia, Cheesesteaks and Hoagies usually come to mind. But now, Grady O's has moved into town with over 20 different hot dogs to choose from. With their famous hot dogs and craft beers, Grady O's has given the City of Brotherly Love more points of interest to be proud of.
For further information, visit http://www.gradyos.com.