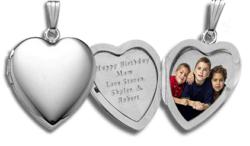 PicturesOnGold.com is slashing prices 50% on selected items,& offering an additional 10% off + Free Shipping using Promo Code HOLIDAY12 for Black Friday & Cyber Monday holiday sales.
Staten Island, NY (PRWEB) November 20, 2012
PicturesOnGold.com one of the largest online jewelry retailers of personalized laser engraved photo jewelry, announced today that it will slash prices 50% on selected items, and offer an additional 10% off + Free Shipping from its various collections for the 2012 Black Friday /Cyber Monday special holiday sales weekend using Promo Code HOLIDAY12.
This will give online Christmas shoppers the ability to buy quality custom photo locket jewelry gifts in the comfort of their homes, without having to brave the huge crowds and waiting lines at malls and shopping centers. "This is our holiday gift to our customers," explained Daniel Schifter, CEO.
PicturesOnGold.com customers can search through an extensive selection of photo engraved lockets, pendants charms, dog tags, bracelets, key chains, Medical ID bracelets, religious medals, and sports pendants for fabulous Holiday gifts. Their collections offer something distinctive for everyone, including Furry Friends.
Personalized customizable jewelry gifts make a lasting impression, and a way to express individuality and style for family and friends. You can have cherished photos permanently laser engraved on to lockets, pendants, charms or other engravable jewelry found on their website," said Mr. Schifter.
Photos are lasered on to the jewelry in color, black and white, or sepia. PicturesOnGold.com can also, modify, digitally enhance, bring people closer together, and zoom in to bring out the photo. Mr. Schifter explained, "This is a very unique product. It is 100% waterproof, and scratchproof, and the engraving is guaranteed to last a lifetime. The detail and likeness of the photo to the original is remarkable. It is a perfect way to keep treasured photo memories for a lifetime."
PicturesOnGold.com customers can shop for their gifts before the holiday rush starting Thursday, November 22th at 8:00pm EST through Tuesday, November 27th 11:59pm EST for special pricing on their entire order, plus FREE shipping with no minimum order for Black Friday and Cyber Monday.
For more information on their holiday sales, visit their website at PicturesOnGold.com/black-friday-2012 and PicturesOnGold.com/cyber-Monday-2012, Facebook, Twitter and Pinterest for the latest updates.
####
About PicturesOnGold.com:
PicturesOnGold.com™ has been manufacturing jewelry since 1998 for the jewelry industry throughout the world. 95% of the work is done directly in their factory. PicturesonGold.com is the only company in the world to laser-print full color, sepia, or black and white photos onto jewelry. A sentimental photo can now be downloaded and permanently imprinted on a 14k gold locket or sterling silver lockets. Initials and a message can also be engraved to further develop the personalized jewelry. The website was created in 2005 and has some unique products like Photo Engraved Jewelry, Lockets, Medical Id Jewelry, Custom Sports Jewelry, Religious Medals, Awareness Ribbons, Childhood Cancer Awareness Jewelry, Personalized Name Bands, Monogram Jewelry, and many other choices.
For additional information, log onto PicturesOnGold.com