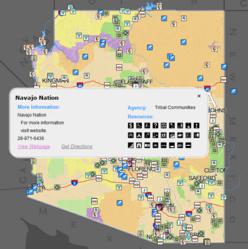 This map goes beyond the standard map and highlights Arizona's exciting recreation and natural attributes as well as the diverse cultural, historical and archeological sites found throughout the state
Tucson, AZ (PRWEB) November 16, 2012
The Recreation & Cultural Sites Map showcases the cultural diversity and outdoor attractions found throughout the Grand Canyon State. Map locations include national parks and monuments, Forest Service and Bureau of Land Management lands, federal recreational areas, state parks, Tribal Lands, and cultural and historic sites. The robust search engine provides a tool for the traveler to identify where to boat, fish, view mountain vistas or wildlife, ride equestrian trails, hike, bicycle, and camp throughout Arizona.
"The Recreation & Cultural Sites Map is an exceptional tool for our visitors and now we are able to offer this helpful resource online," said Sherry Henry, AOT director. "This map goes beyond the standard map and highlights Arizona's exciting recreation and natural attributes as well as the diverse cultural, historical and archeological sites found throughout the state." Look forward to additions of museums, archaeological sites and astronomical observatories.
This convenient tool is just one of the many dynamic features available on the Arizona Experience, which commemorates 100 years of statehood and offers an online portal to the people, places, and events that defined Arizona's past and are shaping its future. More than a website, the Arizona Experience celebrates Arizona via fly-throughs of iconic landscapes, interactive maps, historic timelines, oral histories and informative articles, videos, and slide shows that will inform and enrich anyone's Arizona experience.
The Arizona Experience site quickly became a hub for STEM (science, technology, engineering, and mathematics) resources as well as other educational tools. Lesson plans approved by the Arizona Department of Education accompany informative articles about economics, land use, history, geology, and more. Teachers can watch videos, find unique resources for hands-on learning in Arizona's growing fields of bioscience and aerospace science, or find dynamic materials that spice up any lesson.
Teachers can win up to $3,000 by entering the Imagine Arizona Lesson Plan Contest. To enter, 4th-12th grade teachers must create an original lesson plan using materials from the Arizona Experience website. The contest will give away up to $25,000 in prizes. Entries can be submitted until March 10, 2013.