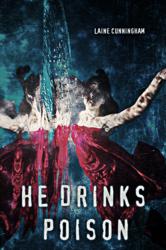 "He Drinks Poison ranks among the great thrillers of all time," says Pamela King Cable, author of Televenge.
Raleigh, NC (PRWEB) November 20, 2012
Readers who found Yann Martel's mix of fantasy, spirituality and darkness so compelling in Life of Pi can enjoy the same blend in Laine Cunningham's latest novel He Drinks Poison. The story follows a South Asian-American FBI agent as she tracks a prolific serial killer. While she deals with her past, the Hindu epic The Ramayana comes to life in the Allegheny Mountains. Only by accessing the power of the dark goddess Kali can she bring down the killer who embodies the demon king Ravana.
"He Drinks Poison ranks among the great thrillers of all time," says Pamela King Cable, author of Televenge, Library Journal's top pick for 2012. "Through sparkling prose, the story sparks fury and tears. It is impossible to read this book unmoved."
Cable's own first novel deals with the darkness found even among those who are considered intensely spiritual. She calls Cunningham's work "disturbing yet fascinating," the same mix that made Martel's work resonate with so many readers.
Priya Conlin-Kumar, a South-Asian American FBI agent, was conceived when her American mother was gang-raped in India shortly after marrying a Hindu man. Despite the fact that Priya's name means "beloved," the knowledge that she was created by an act of violence influences her decision to become a sworn officer.
When Priya is assigned to the FBI's Wheeling, WV location, she begins experiencing visions from the Hindu epic The Ramayana. Two killers are prowling the region. Cole Bennett, a thirty-something blue-collar worker, is a serial rapist who kills his victims in order to avoid capture. Quinn Lawrence, a furniture dealer, is a classic serial murderer. He is also the ten-headed demon king Ravana.
The body that proves Priya's two-killer theory is soon found lying on a sari beside an offering tray filled with rupees. As the killings continue, Lawrence uses the trappings of different Indian festivals to send her messages. Priya confides in Ohio County Sheriff Randal Pierson, a man who becomes her lover. Meanwhile, the visions manifest themselves in physical ways—a drop of blood, a feather, a flame-red asoka flower from the demon king's garland.
She also has visions of Shiva, the god who destroys the corrupt world then makes it anew with his great Tandava dance. In Hindu thought, male and female energy must combine for either to be effective. As Randal and Priya grow closer, their intimate passions build those same energies. Finally Priya's anger, the righteous anger Hindu warriors must feel if they are to be victorious, explodes. Kali enters Priya.
Although Kali's visage is horrific, she is the wrathful mother who defends her children from harm. By then so much of the ancient tale has come alive that an army of demons hides in the forest. During the final battle, she brings Lawrence to justice in a way that satisfies both the law of man and spiritual law. The resolution allows her to make some peace with the suffering of her family. The book ends with the single word beloved.
He Drinks Poison has been compared to Silence of the Lambs but on a whole different level. "Using metaphors and visions from Indian mythology as a framing device," says Martin Smith, President of Pencil Point Mountain, "it becomes not just the tale of a monstrously brilliant serial killer pursued by a dogged FBI agent dealing with her own past but a battle in the ongoing war between Good and Evil."
The novel was shortlisted for the Pirate's Alley William Faulkner award before being picked up by Sun Dogs Creations. The creation of the novel was supported by residencies and grants from the prestigious Vermont Studio Center and Wildacres, an arts and humanities center. The e-book is available from all major distributors like Amazon, iBookstore, Barnes & Noble, Sony and Kobo. Additional outlets include Baker & Taylor, Copia, Gardner and eBookPie.
Cunningham's other novels include the award-winning Message Stick. Gabriel Branch, a biracial Aborigine, faces a powerful shaman in the Australian outback to discover the truth about his best friend's disappearance. The work won two national awards that ranked Cunningham alongside Pulitzer Prize winning authors like William Styron and Horton Foote. More information on her first novel and the companion book of essays, Seven Sisters: Spiritual Messages from Aboriginal Australia, can be found at http://www.LaineCunningham.com. She can be reached at 919-928-2245.
Cunningham is also a publishing consultant. She owns Writer's Resource, a company offering ghostwriting, rewriting and editing services as well as book proposals and marketing for fiction and nonfiction authors. The company's website is http://www.WritersResource.us. Their toll-free number is 866-212-9805.