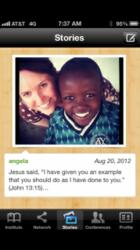 Louisville, KY (PRWEB) November 17, 2012
MedicalMissions.com, the premier website for health care missions, recently released a new mobile app to connect medical students and professionals, missionaries, and missions organizations around the world.
Like the MedicalMissions.com website, the app allows users to share stories of past missions experiences; search for future opportunities by location, interests, and specialty; learn about upcoming events; and create a profile to connect with others.
The new app also makes it even easier for users to access the website's extensive library of resources, including hundreds of podcasts and audio files searchable by subject or keywords.
The app is free and available in the iTunes store or at http://www.medicalmissions.com/app.