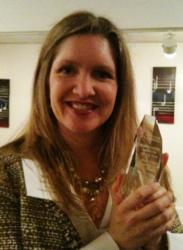 I'm deeply honored to receive the Search Engine Marketer of the Year award...
Atlanta, GA (PRWEB) November 16, 2012
Stacy Williams, CEO of Prominent Placement, Inc. (PPI), one of the first search engine marketing firms in Atlanta, has been named the 2012 Search Engine Marketer of the Year by the Technology Association of Georgia ("TAG").
TAG's 2012 Tech Marketing Awards acknowledged individual achievements by Georgia-based technology marketers in the innovative use of technology to drive marketing strategies, generate new standards of excellence, and achieve profitable results. The Search Engine Marketer of the Year award recognizes the most innovative marketer whose SEO or Paid Search techniques combine art and science to achieve an outstanding ROI. Williams was selected from a field of over sixty nominees for the award. The winners were announced at a gala event on the evening of November 15 at the Defoor Centre in Atlanta.
"I'm deeply honored to receive the Search Engine Marketer of the Year award," says Williams. "I shared the nomination with incredibly talented and innovative peers, so I'm thrilled and grateful to have received this distinction from TAG."
About Prominent Placement
PPI is an award-winning Atlanta search engine marketing company that grows sales pipelines for clients nationwide by increasing online brand awareness. As a pioneer in search engine optimization (SEO) and paid search services, we consistently deliver ROI that traditional marketing channels can't touch, with a level of client service that raises the bar. Since 2001, PPI has managed SEO and paid search strategies for clients across the U.S., empowering businesses to focus on what they do best. PPI's customized solutions are backed by hard numbers, giving decision makers the confidence they need to make smarter decisions.
For more information, visit http://www.prominentplacement.com or call 404.373.9727.
About TAG Marketing
TAG Marketing is a society within the Technology Association of Georgia (TAG). TAG Marketing helps technology pioneers and business leaders grow their companies and achieve greater financial success through marketing. In addition to networking and learning opportunities, TAG Marketing provides almost 4,000 members with firsthand exposure to marketing tools, programs, resources and the people who lead our technology-driven economy. For more information on TAG Marketing, visit http://www.tagonline.org/tag-marketing.php. Follow us on Twitter: @TAG_MKTG.
About The Technology Association of Georgia (TAG)
The Technology Association of Georgia (TAG) is the leading technology industry association in the state, serving more than 17,800 members and hosting over 200 events each year. TAG serves as an umbrella organization for 31 industry societies, each of which provides rich content for TAG constituents. TAG's mission is to educate, promote, influence and unite Georgia's technology community to foster an innovative and connected marketplace that stimulates and enhances a tech-based economy. The association provides members with access to networking and educational programs; recognizes and promotes Georgia's technology leaders and companies; and advocates for legislative action that enhances the state's economic climate for technology. Additionally, the TAG Education Collaborative (TAG's charitable arm) focuses on helping science, technology, engineering and math (STEM) education initiatives thrive. For more information visit the TAG website at http://www.tagonline.org.