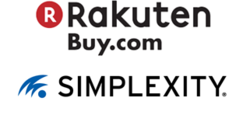 We constantly look to innovate and improve the online shopping experience and this partnership with Simplexity is another proof point to that commitment.
Reston, VA (PRWEB) November 19, 2012
Simplexity (http://www.simplexity.com), the Internet's leading wireless solutions provider, and Rakuten Buy.com, the Internet Superstore, together announced the launch of Rakuten Buy.com's new and improved Wireless Store. The Simplexity-powered site expands upon Rakuten Buy.com's already robust online shopping catalog to include wireless devices with both prepaid and postpaid service plans from top U.S. carriers. Rakuten Buy.com chose Simplexity for its industry experience and best-in-class capabilities that include custom website design, sales and order acquisition, activations and provisioning, distribution and logistics, merchandising and customer care.
The Rakuten Buy.com Wireless Store, which can be accessed directly from Buy.com under the product category "Cell Phones with Plans", now provides customers an easy way to shop for both prepaid and postpaid wireless devices at the most affordable and competitive prices online. The Wireless Store offers hundreds of choices including the latest smartphones, feature phones and data devices from top manufacturers such as HTC, LG, Samsung, and Motorola, across 11 postpaid and prepaid carriers. With just a few clicks, visitors to Rakuten Buy.com can quickly and easily order and activate a brand new mobile phone, mobile hotspot, or USB laptop stick with service all from the convenience of their home or office. In addition to shopping for the best deals and products, customers have the ability to upgrade their phone with their current carrier, transfer service to a new carrier, and add new lines to an existing account.
Another improvement made to the Rakuten Buy.com Wireless Store is its new search functionality. Utilizing Simplexity's dynamic filtering technology, shoppers now have the ability to pre-select all of their 'must-have' features, making it easy to find the perfect device and rate plan that best fits their needs. In addition, Rakuten Buy.com customers can now check online to see if they are eligible for an upgrade on their existing carrier and can opt-in to be notified when they are eligible. Should customers want additional assistance, wireless specialists are also available through a dedicated toll-free number, 1-866-856-2560.
"We are thrilled that Rakuten Buy.com selected Simplexity for our comprehensive turnkey solution and that Rakuten Buy.com customers will now have a great avenue to shop for the latest wireless devices in an easy to use online platform," said Jeff Baskin, Senior Vice President, Strategic Partnerships, Simplexity. "Rakuten Buy.com already has an unbridled reputation as a leader in e-Commerce and today, with our support, they can now offer our full suite of wireless products and services to its millions of customers who shop on their site. We see great potential in this relationship and Rakuten Buy.com's new wireless program."
Bernard Luthi, COO & CMO, Rakuten Buy.com, comments: "We constantly look to innovate and improve the online shopping experience and this partnership with Simplexity is another proof point to that commitment. The new Wireless Store is really exciting for us and we're happy to be able to offer both prepaid and postpaid service plans from top U.S. carriers."
For more information on Rakuten's Buy.com or to shop for wireless products and services, please visit http://www.buy.com. For more information on Simplexity and its suite of wireless solutions, please visit, http://www.simplexity.com.
About Simplexity
Simplexity is the Internet's leading commerce and MVNO solutions provider for the wireless industry. Privately held and based in Reston, Virginia, our proprietary platform offers a suite of fully integrated and highly customizable branded wireless solutions. Simplexity's end-to-end business and technology solutions include comprehensive inventory and rate plan management, order processing, automated activation, online merchandising and knowledgeable and courteous customer care which spans not only consultative selling and order taking but also technical support and dispute resolution. With an expansive marketing network that includes thousands of custom-branded and co-branded partner websites, affiliate programs and MVNOs, Simplexity builds and powers online storefronts for selling wireless products and services for some of the most recognized brands in the world, such as RadioShack, Sears, Target, Kmart, Overstock, TigerDirect, Newegg and Dell.
Simplexity owns and operates its own shopping and comparison site for consumers; Wirefly.com, the Internet's largest authorized retailer for cell phones, smartphones and service plans, as well as Simplexity MVNO Services, which offers turnkey and customizable end-to-end customer branded Mobile Virtual Network Operator (MVNO) and Mobile Virtual Network Enabler (MVNE) services.
About Rakuten's Buy.com
With more than 18 million customers, Rakuten Buy.com is a leading retail marketplace, focused on providing its customers with an entertaining shopping experience and a broad selection of retail goods at everyday low prices. Rakuten Buy.com connects buyers and sellers in a global marketplace that allows shoppers to buy from people, not the internet. By providing a large selection of products from Computers, Electronics, Fashion, Health & Beauty, Video Games, Home Furnishings & Décor, Baby & Toys, Pets, Sporting Equipment and more, Rakuten Buy.com shoppers support local merchants as well as the brands they love. Founded in 1997, Buy.com joined Rakuten in 2010 to continue its mission to provide a simple, connected and human alternative to the ecommerce experience. Buy.com is headquartered in Aliso Viejo, CA. For more information about Rakuten's Buy.com, please visit http://www.buy.com.
About Rakuten
Rakuten, Inc. (JASDAQ:4755), is one of the world's leading Internet service companies, providing a variety of consumer- and business-focused services including e-commerce, e-reading, travel, banking, securities, credit card, e-money, portal and media, online marketing and professional sports. Rakuten is expanding globally and currently has operations throughout Asia, Western Europe, and the Americas. Founded in 1997, Rakuten is headquartered in Tokyo, with over 10,000 employees worldwide. For more information, visit: http://global.rakuten.com/group.