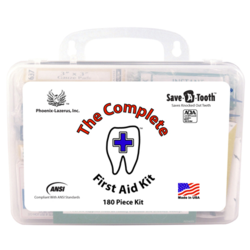 With concerns about HIV, hepatitis and other transmittable diseases, it is essential to have a disposable, economical CPR mouth-to-mouth barrier between the rescuer and the victim in a well-stocked first aid kit.
Wayne, PA (PRWEB) November 17, 2012
In its attempt to continually improve its Complete First Aid kit, Phoenix-Lazerus, Inc. now includes the patented CPR mouth-to-mouth resuscitator from Certified Safety Manufacturing. This mouth-to-mouth barrier is both economical and disposable. Its exceptional design has a one-way valve that prevents back flow of air or fluids to the rescuer from the victim's oral secretions.
The cross-section on the bottom of the stem prevents tongue blockage and the stem length complies with the new FDA standard and serves as a bite stick if needed.
"A really good first aid kit should have all of the components that are necessary for almost any emergency", says Dr. Paul Krasner, Professor of Dentistry at Temple University School of Dentistry. "Since heart attacks can happen at any time and mouth-to-mouth resuscitation is necessary to save a life, a mouth to mouth barrier is critical to have if there is a fear of contracting transmittable diseases or a revulsion from oral secretions. This CPR protector has a one-way valve that eliminates this worry and the flexible barrier prevents the transmission of disease," he continues.
It meets all requirements of ASTM F920-93. (American Society for Testing and Materials) and its new patented "Free Floating" valve allows more air-flow to the victim.
The Complete First Aid kit also contains the Save-A-Tooth® system, the only product that can store, preserve and safely transport knocked out teeth for twenty-four hours until they can be reimplanted by a dentist. Over 90% of the five million teeth knocked out each year in the United States and Canada can be saved if the Save-A-Tooth® is used within sixty minutes of the accident.
In addition to its being the most "Complete" first aid kit, the Complete First Aid kit is completely made in the USA and contains the highest quality USA made components.
Phoenix-Lazerus, Inc. manufactures and distributes the Save-A-Tooth® system and the Complete First Aid kit. It has been in business since 2001 and is dedicated to producing products completely made in the USA with 100% USA-made parts. It is also the tooth transportation system in the Store-A-Tooth system, the leading transporter and cryogenic storage system for dental stem cells.