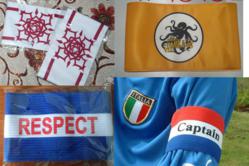 (PRWEB) November 18, 2012
Recently, custom-armbands.com has released its 10 kinds of new sport armband designs, and offer sport armband coupons for the USA Market. Custom-armbands.com, one of the best armband brands in the current market, is also sending out custom armband coupons for two week starting from Nov. 19 until Nov. 30, 2012.
The new sport armband designs from custom-armbands.com are featured with rich choices, fine design, and elegance, and can help customers to grab the spotlight in few seconds.
"We offer all customers with quality custom armbands at wholesale prices, and help them to grab the eyesights of customers to obtain success. All of our custom armbands look dynamic when paired with any other outfit, and extensively used for sporting events, religious activities, company promotion, charitable fund-raising activities, and so on." Said, Wendy, CEO of Custom-armbands.com.
Custom armband, like sport armband or captain armband, printed with customer's logo, name, web address, phone number or custom design, has been very popular these years, and widely used by small companies and huge corporations to help promote their brand, products and services.
Wendy, CEO of Custom-armbands.com, emphasized, "Not only do we have the best armband production line on the market today, we also have our own designers, who can always design what customers need actually. Our store is more of a lounge where consumers have the option to come in and try our product quickly."
About Custom-armbands.com
Custom-armbands.com is a professional armband manufacturer, and produce all kinds of armbands according to customer requirements. The company has 4,000 square meter modern standard production workshop, equipped with a complete set of machinery. All production processes are completed in the company, and standardized through production guidelines and quality control.