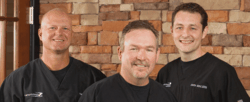 Fort Worth, TX (PRWEB) November 19, 2012
Fort Worth Dental's Dr. Terry M. Zang, Dr. Arthur J. Mund, and Dr. Justin Mund provide dental devices for sleep apnea relief to patients suffering from a mild or moderate form of apnea. This problem can affect people at any age and can be dangerous. A patient with sleep apnea has airways that are blocked intermittently while a person sleeps, causing the person to stop breathing off and on during the sleeping period. The devices position the mouth so that blockage is prevented.
Central sleep apnea (CSA) and obstructive sleep apnea (OSA) are the two types of apnea with OSA being more common. This type of apnea is when the airway is blocked, often by the collapse of soft tissue in the throat that occurs during sleep. CSA occurs when the muscles that control breathing are not signaled by the brain and may be caused by respiratory control center instability. Those at risk for apnea include individuals that meet or have one or more of the following conditions: male, over 40 years of age, overweight, large tongue or tonsils, family history of the issue, deviated septum or other nasal obstruction, large neck size and gastroesophageal reflux disease.
Many people with the problem have not been diagnosed for sleep apnea. Some of the symptoms include extreme daytime drowsiness, loud snoring, insomnia, choking sounds or snorting during sleep, waking up with shortness of breath in the night, unintentionally falling asleep during the day, and headaches when awaking from sleep. Fatigue caused by apnea can make a person less alert when driving or at work and school. Additional health problems caused by apnea may include high blood pressure and a higher risk of stroke or heart failure.
Depending on the type of apnea and the severity of the problem, treatments will differ. Dental devices that hold the tongue in place or adjust the jaw to keep the airway open are some of the options available for sleep apnea. People who suspect they or someone they know has apnea should get a professional opinion on the type of treatment that may work best for their individual situation. More information on sleep apnea may be found at http://www.fortworthdental.com.
Fort Worth Dental is a general practice offering patients personalized dental care for Fort Worth, TX. Dr. Terry M. Zang, Dr. Arthur J. Mund and Dr. Justin Mund are all dedicated to their dental practice, which offers the recent FDA cleared laser procedure for gum disease and periodontal treatment. Focused on preventative, restorative and cosmetic dentistry, they each have unique attributes for the practice. To learn more about Fort Worth Dental and their dental services visit their website at http://www.fortworthdental.com.