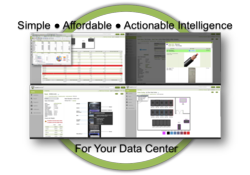 Sarasota, Fla. (PRWEB) November 16, 2012
AlphaPoint Technology, Inc. (APPO.OB) (the "Company"), a leading developer of IT Asset Management ("ITAM") and data center management software and service solutions, today announced that the Company has executed a license agreement with the New York Power Authority ("NYPA"), to install and deploy AlphaPoint Technology's AssetCentral™ in NYPA's data centers located at its principal facilities in New York. The New York Power Authority is America's largest state power organization, with 17 generating facilities and more than 1,400 circuit-miles of transmission lines.
NYPA's data centers are critical to their support and project efforts across all disciplines and it selected AlphaPoint's AssetCentral™ as part of NYPA's short and long-term commitments to optimize its information technology ("IT") infrastructure. NYPA anticipates initially utilizing AssetCentral™ to gain deeper insight and control over all data center assets, while subsequently investigating the future deployment of other features and functionalities offered by AlphaPoint. Another consideration contributing to the selection by NYPA was the robust reporting, connectivity capabilities and affordability provided by the AssetCentral™ product.
Mr. Gary Macleod, AlphaPoint Technology, Inc. Chief Executive Officer, added, the "New York Power Authority is one of our nation's leading Power Authorities with a 80 year history that has influenced the electric utility far beyond the borders of New York State". We are pleased and proud that NYPA has selected our AssetCentral™ offering to monitor, manage, and optimize their information technology infrastructure, clearly a core resource contributing to their daily operations. This selection further validates AlphaPoint Technology offerings as a leading data center management tool for individual data centers as well as sophisticated complex local and global data center networks."
About AlphaPoint Technology:
From its headquarters in Tampa, Florida, AlphaPoint Technology aims to be a leading provider of DCIM and ITAM solutions. AlphaPoint Technologies provides Data Center and IT Asset Management Software. AssetCentral is a cutting-edge, easy-to-use, web-based IT Asset Management (ITAM software) and Data Center Infrastructure Management (DCIM software) solution that empowers IT professionals to simplify data center operations, streamline processes, implement best practices, improve service delivery, mitigate risk, and help drive Green Data Center Initiatives. To learn more, visit http://www.alphapointtechnology.com.
About New York Power Authority:
The New York Power Authority has a long and proud history. Governor Franklin D. Roosevelt established New York's model for public power through legislation signed in 1931. Today, the Power Authority remains true to its mission, serving the public without the use of any tax revenue or state credit. NYPA finances construction of projects through bond sales to private investors, repaying bondholders with proceeds from our operations.
Forward-Looking Statement:
The statements in the press release that relate to the Company's expectations with regard to the future impact on the Company's results from acquisitions or actions in development are forward-looking statements within the meaning of the Private Securities Litigation Reform Act of 1995. The statements in this document may also contain "forward-looking statements" within the meaning of Section 27A of the Securities Act of 1933 and Section 21E of the Securities Exchange Act of 1934. When used in this press release, the words "anticipate," "believe," "estimate," "may," "intend," "expect" and similar expressions identify such forward-looking statements. Forward-looking statements are subject to risks, uncertainties, and other factors that could cause actual results to differ materially from those contained in such statements. Such risks, uncertainties, and factors include, but are not limited to, future capital needs, changes, and delays in product development plans and schedules, or market acceptance.
Media Contact:
Jay Letendre
AlphaPoint Technology, Inc.
941-907-8822
info(at)alphapoint-us(dot)com