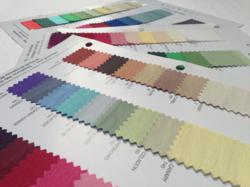 Luckily, with our assortment of wedding ties, sorted to coordinate with over 300 bridesmaids dress colors, stressing over finding the right groomsmen accessories is no longer something couples need to worry about.
San Francisco, CA (PRWEB) November 19, 2012
Bows-n-Ties.com, an online retailer specializing in groomsmen accessories, has just expanded its collection of wedding ties. The company just announced that it is now also offering neckties, bow ties, and pocket squares designed to coordinate with Bill Levkoff's dress colors.
"We're extremely excited to announce the expansion of our wedding tie collection," says Bows-n-Ties.com founder Hendrik Pohl. "This is something we've been working on for a while now, and are proud to say that we are now offering ties that correlate specifically with the colors of Bill Levkoff's dresses. Levkoff is one of our favorite designers, so to say that we were happy to take on this task would be a large understatement. Rather, we jumped at the opportunity and are quite proud of the results."
Beginning last year, Bows-n-Ties.com began the process of sorting their 5000+ ties to match a set of very specific wedding colors. First pairing ties with David's Bridal's bridesmaids dress colors, the company also went on to design tie collections that coordinate with J. Crew's and Alfred Angelo's most popular bridal hues. Now a year later, Bill Levkoff has been added to the list of designers.
"Recently, we've been receiving a great deal of inquiries from customers about whether or not Bows-n-Ties.com sells ties to match up specifically with the dresses of Bill Levkoff," says Pohl. "It only makes sense that we would add Levkoff to our list of designers in order to make the collection more complete, as this is what our customers have been asking for.
Levkoff's collection offers over 40 stunning hues, each of which has been meticulously paired up with specific groomsmen ties from Bows-n-Ties.com. Customers can utilize a streamlined search function to find the perfect groomsmen ties to match the dresses that are to be worn at the wedding. In addition, the company's dedicated wedding specialist, Ashley, is there to answer any questions.
"Planning a wedding is tough work, and all too often it is the small things, such as finding the right groomsmen ties, that are forgotten about until the last minute. Luckily, with our assortment of wedding ties, sorted to coordinate with over 300 bridesmaids dress colors, stressing over finding the right groomsmen accessories is no longer something couples need to worry about." says Pohl. "We feel as if it's our duty to our customers to streamline the process of choosing groomsmen ties, which can be rather anxiety-producing without a little bit of help. After all, there are thousands of ties to choose from on our site, and depending upon the color of the dress being paired, some will undoubtedly work better than others. If we've made it easier for couples to choose the right attire for their special day, we've succeeded."
For more information, visit http://www.bows-n-ties.com/mens-fashion-tips/wrapper.php?/archives/451-Wedding-Ties-in-Bill-Levkoffs-Colors.html