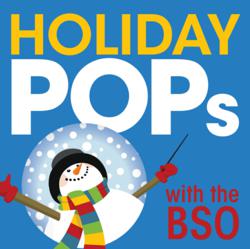 Baltimore, Md. (PRWEB) November 19, 2012
The Baltimore Symphony Orchestra (BSO) SuperPops and baritone Daniel Narducci, star of stage and screen, will be ringing in the holiday season at the Music Center at Strathmore on Wednesday, December 12 at 8 p.m. and at the Joseph Meyerhoff Symphony Hall on Thursday, December 13 at 2 p.m., Friday December 14 at 2 p.m. and 7:30 p.m., Saturday December 15 at 2 p.m. and 7:30 p.m. and Sunday December 16 2102 at 2 p.m. Under the direction of conductor Robert Bernhardt, this Holiday Pops Celebration will feature the Baltimore Choral Arts Society and the Anacrusis Handbell Ensemble in a program of carols, classic holiday favorites, sing-alongs and even a special guest from the North Pole. This concert is suitable for the whole family. Please see below for complete program details.
Robert Bernhardt, conductor
Conductor Robert Bernhardt brings a unique combination of infectious enthusiasm, a style of ease and a depth of musicianship to the podium. Equally at home with symphonic masterworks, opera and popular music in a variety of genres, Mr. Bernhardt's conducting activity reflects his versatility and broad musical taste. He is Music Director Emeritus of the Chattanooga Symphony and Opera, having recently completed a 19-year tenure as that orchestra's Music Director. Mr. Bernhardt also holds the title of Principal Pops Conductor of the Louisville Orchestra with whom he has collaborated for over 30 years. He has previously served as Artistic Director and Principal Conductor of the Rochester Philharmonic (1995-98), Music Director and Conductor of the Tucson Symphony (1987-95), and Principal Guest Conductor of Kentucky Opera (1991-96).
Mr. Bernhardt began his professional career with the Louisville Orchestra in 1981 as Assistant Conductor, and has worked with the Orchestra every year since. For the past 15 years he has served as its Principal Pops Conductor, collaborating with a wide variety of artists and entertainers. In addition to conducting the Pops series, Mr. Bernhardt also hosts and conducts a three-concert series he founded in the late 1980s titled "NightLites" which presents themed programs of a variety of musical genres in a creative, informative and engaging format.
Mr. Bernhardt's recordings of the standard symphonic canon and works of contemporary composers are available on the Vanguard, First Edition, RPO and Carlton Classics labels.
Daniel Narducci, baritone
Baritone Daniel Narducci is a multi-faceted artist whose talents have been captured through live stage presentations, recordings, documentaries and television. Since his professional debut with the Cincinnati Pops Orchestra, Mr. Narducci has appeared with many of the world's most prestigious orchestras, including the Cleveland Orchestra, Philadelphia Orchestra, Boston Pops, Naples Philharmonic, Chicago Symphony, Rochester Philharmonic, Toronto Symphony, Houston Symphony and the Detroit Symphony.
Mr. Narducci's television appearances have reached audiences worldwide. His historic performance with the Cincinnati Pops Orchestra at the Great Hall of the People in Beijing was filmed for nationwide broadcast in China. Other television appearances include co-starring with Frederica von Stade and the Naples Philharmonic Orchestra in a PBS broadcast program entitled Pops at the Phil: A Century of Broadway. He also appeared with Judy Kaye in the BBC television documentary Kurt Weill in America: I'm a Stranger Here Myself.
Daniel Narducci's combined talents have been seen on operetta and musical theatre stages throughout North America and Europe. He recently made his New York City debut at Alice Tully Hall with the Collegiate Chorale under the direction of Robert Bass in An Evening of American Operetta. He played the role of Lancelot during two national tours of Camelot and portrayed Old Deuteronomy in the 10th anniversary production of Cats in Hamburg, Germany.
An active recording artist, Daniel Narducci recently created the role of Captain Hook on the world premiere recording of Leonard Bernstein's Peter Pan. This complete version of the musical co-stars Linda Eder, and was released by Koch International Records.
Tom Hall and the Baltimore Choral Arts Society
The Baltimore Choral Arts Society, now in its 46th season, is one of Maryland's premier cultural institutions. The Symphonic Chorus, Full Chorus, Orchestra and Chamber Chorus perform throughout the mid-Atlantic region, as well as in Washington, DC, New York and Europe.
For the past 15 years, WMAR Television has featured Choral Arts in an hour-long special, "Christmas with Choral Arts," which won an Emmy in 2006. Mr. Hall and the chorus were also featured in a PBS documentary called "Jews and Christians: A Journey of Faith," broadcast nationwide and on National Public Radio in 2001. On local radio, Mr. Hall is the host of "Choral Arts Classics," a monthly program on WYPR that features the Choral Arts Chorus and Orchestra and he is the Culture Editor on WYPR's "Maryland Morning with Sheilah Kast."
Baltimore Choral Arts' latest CD is "Christmas at America's First Cathedral," released in 2010. A recording with Dave Brubeck, featuring Brubeck's oratorio, "The Gates of Justice," was released internationally in 2004. Mr. Hall produced "Let Freedom Ring!," a highly successful recording featuring the Washington Men's Camerata, as well the soundtracks for "Legends" on The Learning Channel.
Acclaimed artists collaborating with Choral Arts have included Chanticleer, Dave Brubeck, the King's Singers, Peter Schickele, Sweet Honey in the Rock and many others.
Tom Hall is one of the most highly regarded performers in choral music today. Appointed Music Director in 1982, he has added more than 100 new works to the BCAS repertoire and he has premiered works by many contemporary composers, including Peter Schickele, Libby Larsen, Robert Sirota and Rosephanye Dunn Powell.
Mr. Hall is also active as a guest conductor, including appearances with the Handel and Haydn Society in Boston, the Choral Arts Society of Philadelphia, Musica Sacra in New York and Britten Sinfonia in Canterbury, England. Mr. Hall has prepared choruses for Leonard Bernstein, Robert Shaw, Helmuth Rilling, and served for 10 years as the Chorus Master of the Baltimore Opera Company.
Anacrusis Handbell Ensemble
Anacrusis is a professional handbell organization consisting of 8 musicians that specialize in small ensemble work. Located in the Chesapeake Bay Area of Maryland, the ensemble is extremely versatile, with the ability to perform handbell quintets, quartets, trios and duets, with optional accompaniment by harp, keyboards, and percussion instruments. They have been featured as performers and instructors at handbell conferences in the Mid-Atlantic region. Anacrusis's repertoire encompasses a wide variety of music, including Classical, Popular, Sacred, and music that is just plain fun.
COMPLETE PROGRAM DETAILS
BSO SuperPops – Holiday Pops Celebration
Wednesday, December 12 at 8 p.m. – The Music Center at Strathmore
Thursday, December 13 at 2 p.m. – Joseph Meyerhoff Symphony Hall (JMSH)
Friday, December 14 at 2 p.m. & 7:30 p.m. – JMSH
Saturday, December 15 at 2 p.m. & 7:30 p.m. – JMSH
Sunday, December 16 at 2 p.m. – JMSH
Robert Bernhardt, conductor
Daniel Narducci, baritone
Baltimore Choral Arts Society
Tom Hall, director
Anacrusis Handbell Ensemble
Tickets range from $17 to $50 and are available through the BSO Ticket Office, 410.783.8000 or BSOmusic.org.
###