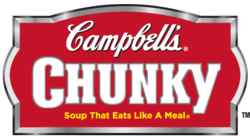 Paterson, New Jerse (PRWEB) November 19, 2012
On Tuesday, November 20, 2012 Campbell's Chunky soup and Victor Cruz, the face of the brand's "Mama's Boy" ad campaign, will visit Eva's Village in Cruz's hometown of Paterson, NJ, to donate more than 5,000 cans of Campbell's Chunky soup to those in need during the holiday season. With Thanksgiving around the corner, the New York Giants wide receiver wanted to make a special donation to his hometown and thank members of the Paterson community for their support over the years.
Eva's Village has been an annual destination during the Thanksgiving holiday for Giants rookie players for many years. The rookies dedicate the day to setting up the dining room, serving the noon meal, and welcoming each and every person who arrives. The day at Eva's is one of several community functions that the rookie class performs together each and every year, and is an important part of their orientation with the team. Cruz first served at Eva's village as a rookie member of the Giants in 2010, and is returning to serve several years later as a Super Bowl champion.
Eva's Village (http://www.evasvillage.org) is a non-profit comprehensive social service organization with a mission to feed the hungry, shelter the homeless, treat the addicted and provide medical care to the poor with respect for the human dignity of each individual. The kitchen serves a hot nutritious meal every day at noon, 365 days/year. "Each day our clients are served a hot lunch by dedicated volunteers in our kitchen program," stated Marie Reger, executive director of Eva's Village. "We are thankful, as the holiday season begins, to have the Giant rookie players and Victor Cruz as a volunteer team and for the soup donation by Campbell's."
Eva's Village, originally a New Jersey soup kitchen, was founded in 1982 by Msgr. Vincent E. Puma in response to the increasing incidence of homelessness in his Paterson, NJ parish. But Msgr. Puma soon realized that a soup kitchen was not enough. With the generous support of thousands of donors and private and government grants, Eva's has grown into the most respected anti-poverty program in New Jersey.
To donate to this NJ Charity, or for more information about Eva's Village, call (973)-523-6220, go to http://www.evasvillage.org or write to: Donna Fico, Director of Marketing & Education, Eva's Village, 393 Main Street, Paterson, NJ, 07501.