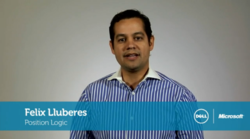 Helping others grow is a critical part of what we do.
Naples, FL (PRWEB) November 19, 2012
Precincts are closed, all votes have been counted, and there's a clear winner in Dell Business's recent Power Pitch video contest: Position Logic, LLC President and CEO Felix Lluberes.
Lluberes recorded the Power Pitch video at the recent Inc. 500 | 5000 Conference in Arizona, and was selected as the winner both by a popular vote count on Facebook and by a panel of Dell Business experts. The prompt for the video was for entrepreneurs attending the conference to deliver a sixty-second pitch about their business and to share their insights into how they successfully earned a place on the Inc. 500 | 5000 list.
Offering advice to entrepreneurs comes naturally to Lluberes, whose company Position Logic made the list by providing an industry-best GPS tracking software as a service solution to entrepreneurs looking to start and grow their own GPS tracking businesses. "Growing our clients is what has grown us onto the Inc. 500 list," says Lluberes. "The entrepreneurs on my GPS tracking platform are in business for themselves, but never by themselves. Helping others grow is a critical part of what we do."
And to further put his money where his mouth is in terms of helping others, Lluberes has pledged to donate all of the winnings from the Power Pitch video to the non-profit organization charity:water, which helps bring clean drinking water to developing countries around the world. "Now it's time to help some people in need and make the world a better place. I suggest you all take a minute of your busy day and have a smile. It sure feels good to be good," said Lluberes in announcing the win.
To see Lluberes's winning video, to find out more about Position Logic, and to see ninjas run amok, visit the Position Logic videos page. If you're an entrepreneur interested in starting a business, you can also request a live demo of Position Logic's GPS tracking software.
About Position Logic
Position Logic, LLC, an Inc. 500 company, is a leading business-to-business, location-based services provider committed to supporting businesses worldwide with integrated and applied business intelligence, precision technology, and customized services and solutions. Position Logic has offices in Florida and the Dominican Republic as well as clients in over 50 countries spread over the continents of North America, South America, Europe, and Africa and in the Middle East region. Position Logic provides GPS tracking software and hardware solutions, service and support to several key industries, including fleet management, Automatic Vehicle Location (AVL), logistics, and security monitoring and crisis management.
For more information about Position Logic, please contact our Sales Team by phone at 866-676-2372 (Toll-Free) or 239-465-0587 (US/International), 801.665.0587 (fax) or email at sales(at)positionlogic(dot)com. You can also visit the Position Logic website at http://www.positionlogic.com.