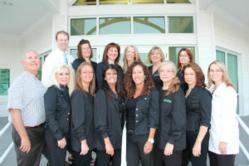 Palm Harbor, FL (PRWEB) November 19, 2012
Dr. Verkler of Knellinger Dental Excellence are offering the Invisalign option for teeth straightening. With this system, there is no need for metal wires, bars or brackets. Instead, clear, plastic trays are used to gently guide the teeth into the desired position. In addition, the trays are removable for easy cleaning.
Very few people are born with teeth that remain perfectly straight throughout their lives. Patients at Knellinger Dental Excellence have a variety of options when it comes to teeth straightening. The Invisalign procedure is particularly beneficial to adults who work in professional fields where their appearance is often judged in the course of business. Having straight teeth gives a person a boost of confidence when they smile. Many people find that this procedure is a good way to get straighter teeth without very many people realizing they are going through the process.
The basic Invisalign procedure requires x-rays and impressions to be taken of the teeth. These are used to create a three dimensional view of the teeth that Dr. Verkler use to create a treatment plan. A clear, plastic set of aligner trays is created for and is worn by the patient. Approximately every six weeks, the patient returns to the office for a new series of trays. While the exact time frame will vary by patient, the average treatment time is about a year.
This procedure may only be provided by dentists who are trained in the Invisalign procedure. Dr. Verkler is trained in this procedure and has seen excellent results in patients who follow the treatment plan. For people who prefer a less visible method of teeth straightening, the Invisalign method may be the best way to go. For more information about straightening teeth with Invisalign, visit http://www.palmharbordentistry.com.
Knellinger Dental Excellence is a general practice offering patients personalized dental care for Palm Harbor, Florida. As a father-daughter team and Palm Harbor natives, Dr. Knellinger and Dr. Verkler both attended the University of Florida and University of Louisville School of Dentistry. They are part of one percent of dental professionals providing the most recent FDA cleared laser procedure for gum disease and periodontal treatment. To learn more about Knellinger Dental Excellence and their services visit their website at http://www.palmharbordentistry.com and call (727) 785-3383.