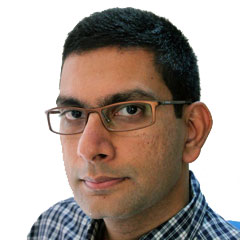 The buzz around gamification has only grown louder. We know now that gains from gamification will vary from enterprise to enterprise. One way to determine if it makes sense for your enterprise is to explore a pilot.
Boston / London (PRWEB) November 21, 2012
Gamification is an emerging technology that uses popular video-game techniques outside the realm of the gaming context. Vendors and enterprises alike are expressing interest in gamification, with its supporters claiming it can create greater customer loyalty and improved employee efficiency. Naysayers dispute those claims, saying it's just a fad.
Join Real Story Group Analyst Kashyap Kompella Tuesday, November 27 at 12:00 p.m. EST/17:00 UTC for an informative webinar about new video gaming technologies used in corporate environments called "Gamification: Just Another Fad or a Useful Tool?"
RSG Analyst Kashyap Kompella will examine both sides of the argument and provide a balanced perspective, replete with actionable recommendations for enterprises considering gamification initiatives.
This webinar will provide:

An introduction to gamification and a critical analysis
Real-world examples of gamification
An overview of leading gamification tools
Real Story Group has just published an advisory paper that includes enterprise use case scenarios and vendor evaluations of the top three SaaS-based gamification vendors--Badgeville, BigDoor, and BunchBall.
A Buyer's Guide to Gamification Technology provides practical, technical, and implementation details about gamification initiatives. This report includes key information for enterprise architects and other implementers who may be considering this kind of technology.
Please visit our website for more information on Real Story Group Research and to register for the webinar.
About The Real Story Group
The Real Story Group, established in 2001, is a buyer's advocate for enterprises looking to invest in content and web technologies. We provide research and advisory services to support end users through content technology selection and implementation. We publish independent vendor evaluations (http://www.realstorygroup.com) that help business and IT leaders sort out suitable technology choices to fit their particular needs. Our research is known for its technical depth, readability, and absolute neutrality.